The Need-to-Know
What: A local fast-casual chain serving up southern-style biscuits any way you want 'em
Where: 530 Daniels St, Raleigh, NC 27605 (while there are multiple Rise locations across the region, your Premium offer is only valid at this location in Cameron Village)
When: Mon - Fri, 7a-3p; Sat - Sun, 7a-2p
Web: Website | Menu | Instagram
Why we love them:
Biscuits made by hand and fresh throughout the day

Seemingly endless options for toppings so you can get your biscuit sammie however you like best


Open for breakfast and lunch every day, you can satisfy your comfort food craving whenever you please


Founded in Durham so they're a distinctly local brand
**Psst! Rise in Cameron Village is one of our Premium partners for Raleigh, so we headed over there to get the DL on how to have the best experience possible. Not in Premium (or not even sure what we're talking about)? Learn more here about this monthly subscription for exploring your city and ask one of your Premium friends for a referral to score a free month.**
Rise 101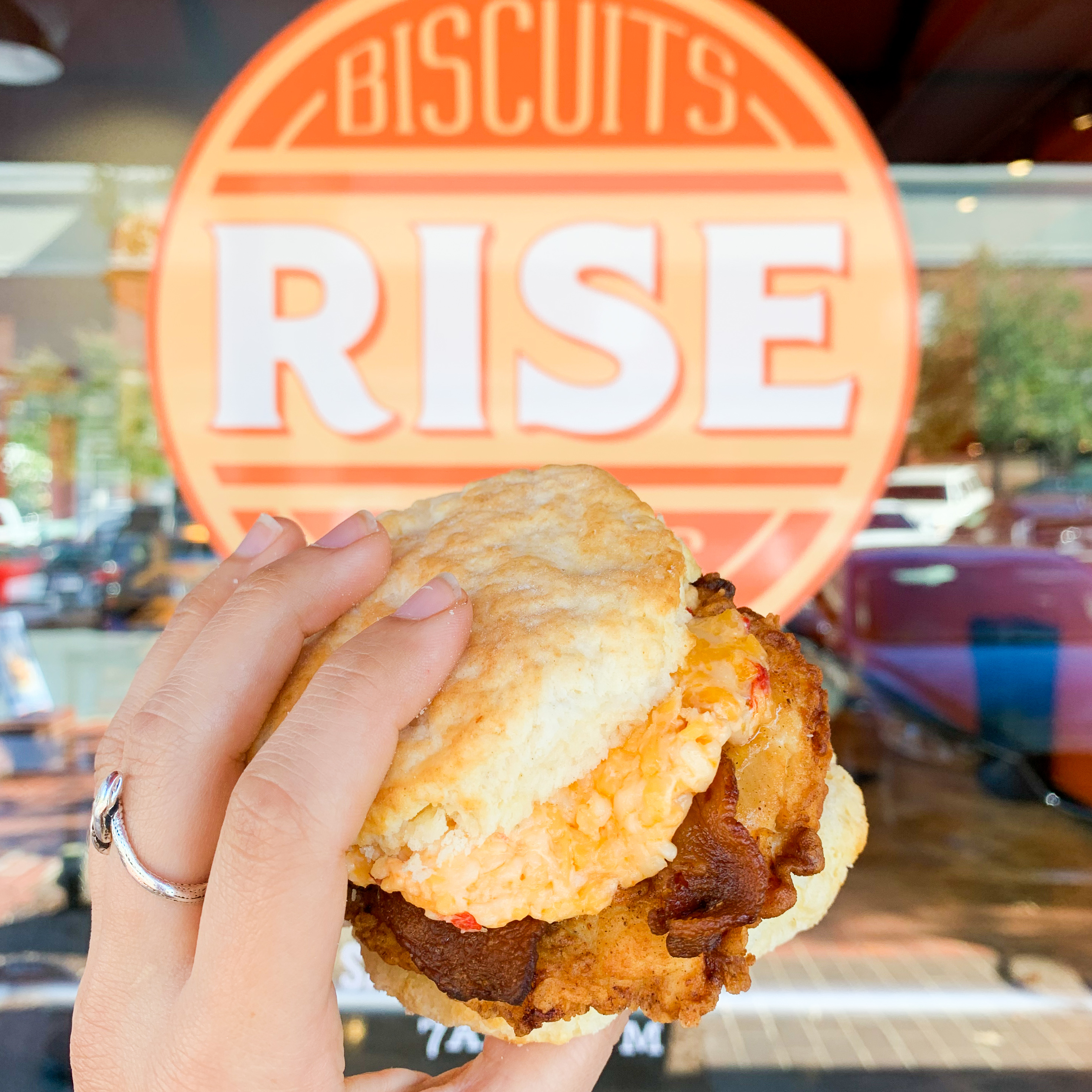 If you aren't already craving Rise Southern Biscuits & Righteous Chicken every morning, you don't know what your breakfasts have been missing. This locally-beloved spot serves up basically anything you could want on a biscuit, from breakfast classics to southern staples to creative and craveable flavors.
This chain of fast-casual restaurants opened in Durham in 2012 and has since expanded to 17 locations across six states—but don't worry, they've still got that distinctly southern vibe. Their ridiculously fluffy buttermilk and cheddar biscuits are made by hand and served up fresh throughout the day. Their fried chicken is tenderized, brined in buttermilk, and fried up when you order, resulting in a perfectly crispy outside and tender, juicy inside. The pimento cheese (which you can get on any darned sandwich you please) is made in house. Any southern grandma would be proud of the level of care that goes into the food at Rise.
We've been talking a lot of breakfast talk, but it's worth noting that Rise is open for lunch, too, and even has a few menu items tailored for your midday meal (though you can get their entire menu anytime they're open).
And, of course, no mornin' meal would be complete without your caffeine fix, and Rise delivers with Counter Culture coffee as good as you could get at any coffee shop.
What to Order


Breakfast Classics Done Right
Whatever your breakfast sandwich go-to is, Rise has got you covered. Bacon, Egg, and Cheese? Check. (Or you could sub in NC-raised sausage for the bacon, or nix the meat entirely for a veggie option.) A Righteous Chicken Biscuit to rival the greats in town? Check. (Get it topped with pimento cheese and bacon for the ultimate southern indulgence.) They've even got a biscuit sandwich inspired by Millennial-fave Avocado Toast, complete with guacamole, tomato, a fried egg, and their spicy Boom Boom sauce.
And if biscuit sandwiches aren't your thing, go for their Biscuit & Gravy Box, your choice of buttermilk or cheddar biscuit smothered in a vegetarian gravy, topped with cheese and green onions, and customizable with your choice of toppings like fried egg or chicken strips.
A Sweet/Savory Combo
Can't decide if you're in a sweet or savory mood for your meal? Get it both ways at Rise, with several menu items that bridge the gap. Take their Honey Chicken biscuit, a take on their classic chicken biscuit that's drizzled in glistening honey for an irresistible meal. Other folks swear the Sweet Country Blues is the unsung hero of the menu, consisting of a local pork sausage patty tucked between glazed blueberry biscuit.
Or you could just get a sweet treat alongside your savory biscuit. Rise has plenty of delicious sugary options made from their biscuit dough, like the Cinnamon Biscuit Roll, Apple Fritter, and Strawberry Upside Down Biscuit. And while some Rise locations are moving away from serving donuts, Cameron Village will be keeping them on the menu, so you can still snag a Maple Bacon or Crème Brûlée Donut to finish off your meal.
The Sandwich of Your Dreams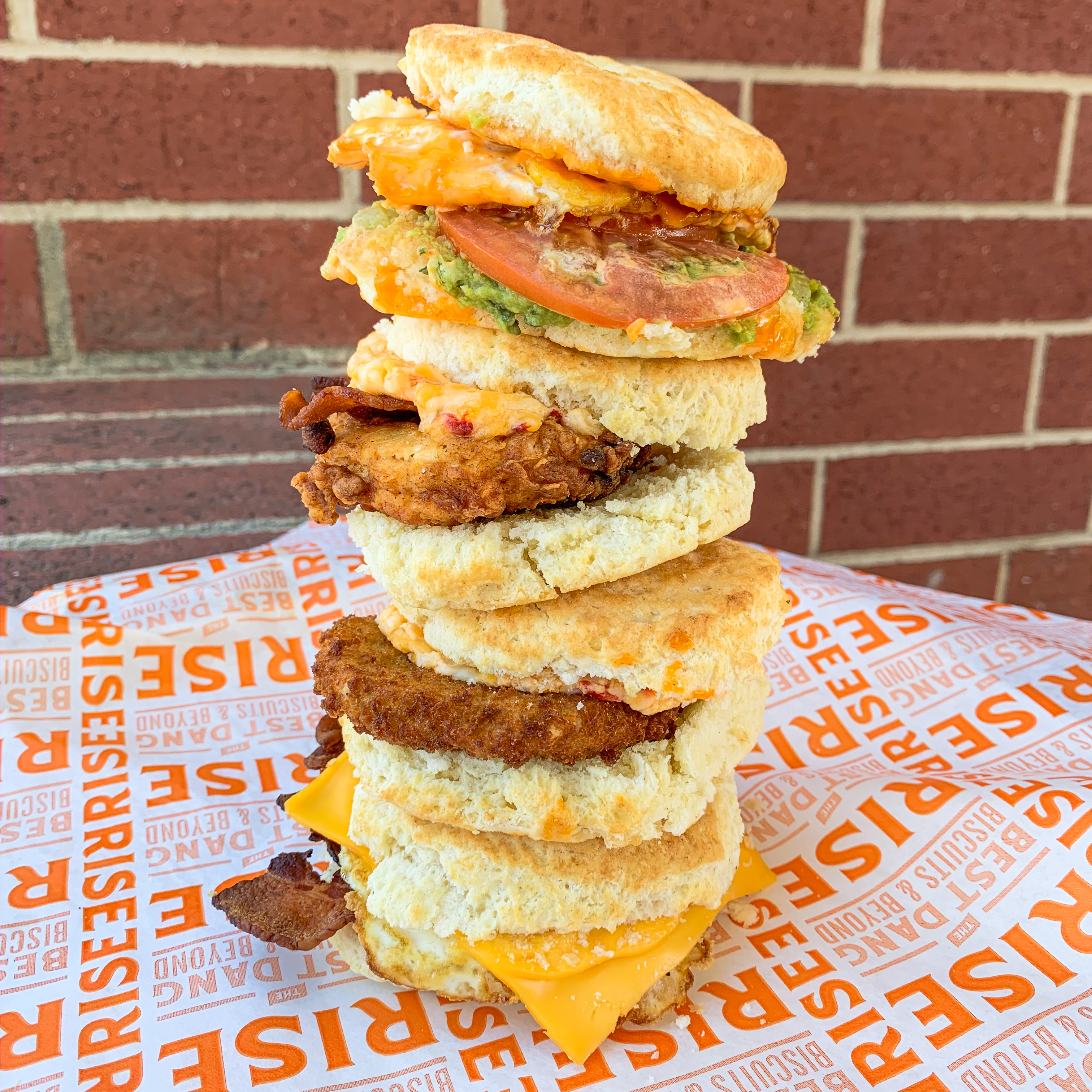 While Rise already has a menu full of drool-worthy options, they're also happy to help create exactly what you're craving. BYOB (build your own biscuit), starting with your choice of buttermilk or cheddar biscuit (or even potato bun) and then letting them know what combo of all of their available toppings you want on there, from meats and other veggie main options to cheeses to eggs three ways to sauces and spreads.
They're even happy to oblige stranger requests, like putting a piece of Righteous Chicken between two donuts instead of on a biscuit. No request is too strange, so if there's a breakfast you're dreaming of, just ask!
Cheddar Tots on the Side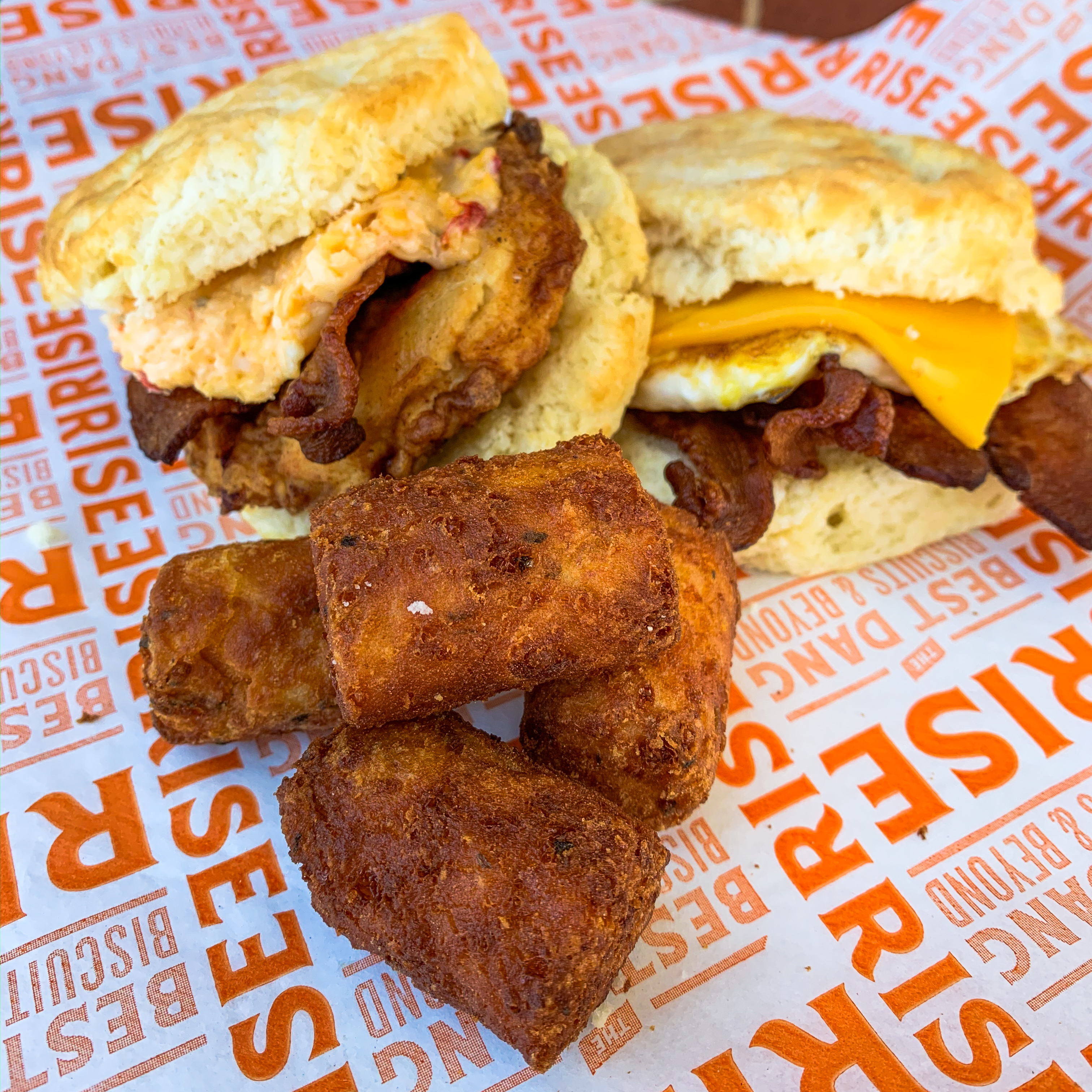 Whatever you order, don't forget to snag a side of Cheddar Tots. These glorious nuggets of potato and cheese, fried to golden perfection, have a cult following for a reason. In our humble opinion, no meal at Rise is complete without them, but they've also got Seasoned Rise Fries if that's more your thing.
Pro Tips
Don't want to wait for your breakfast on the weekends? Get there before 9a and you'll likely find the restaurant almost empty—come much after that and expect a line.


While vegetarians have plenty of options here (including fake meat), vegans and gluten-free folks will have a tougher time finding a meal that fits their needs here.


There's virtually no indoor seating at the Cameron Village location, but they've got plenty of outdoor tables for eating on a nice day.


They've got wifi if you're trying to get your workday started while you nom on some breakfast.


Not awake enough to talk to humans yet? Rise offers online ordering, delivery through most of your fave apps, or even a digital kiosk for ordering when you walk in the door. While you won't be able to use your Premium offer for these options, good to know for when you're ordering Rise time and time again.


They've also got catering if you seriously just can't get enough!