Neomonde is one of our Premium partners for Raleigh + Durham, so we headed over there to get the DL on how to have the best experience possible. Whether you're Premium or not, read on to learn why Neomonde is awesome, what dishes not to miss, and pro tips for making the most of your time (and moolah).
Not in Premium (or not even sure what we're talking about)? Learn more here about this monthly subscription for exploring your city and get on the waitlist (or ask one of your Premium friends for a referral to skip the line!).


Neomonde 101
Neomonde has been a longtime staple in the Triangle, having served up homespun recipes straight from Lebanon for the past 40+ years. They've got fast-casual service with fresh, flavorful, and authentic Middle Eastern cuisine—and they've got the history to back it up.
Neomonde was started by three brothers who immigrated from Lebanon to escape civil war and pursue educational opportunities in the states. Using their mother's recipes they started a small bread bakery—which has now grown into three successful and beloved Triangle restaurants.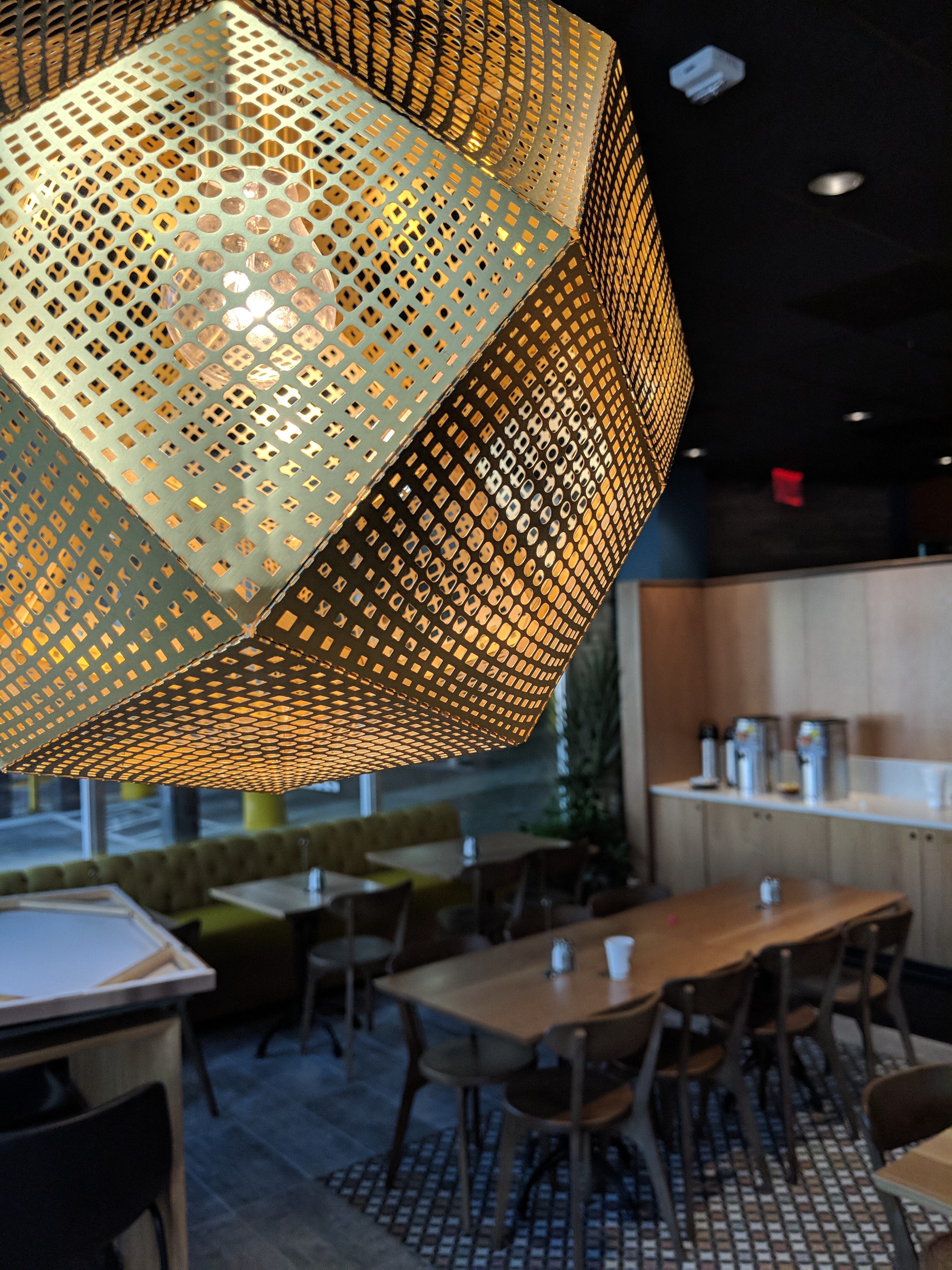 Most recently, they've opened up shop in downtown Durham; smack dab in the heart of the city (it's right on the ground floor of the Unscripted Hotel), Neomonde's been a welcome addition to DTD's fast-evolving food scene. This new spot's got all the same authentic offerings as Neomonde's flagship location in Raleigh, but with one key difference: the vibe.
Don't get us wrong, we love their O.G. spot for its no-frills, just great food style, but it's also lovely to see Lebanese-inspired design that's both authentic and contemporary. Designed by one of the owner's daughters, their Durham spot's got light atmospheric touches—mosaic tiles, intricate iron works, arches, etc.—that truly enhance the space.
Walk into either location and you'll find a large glass deli case, brimming with massive, colorful bowls of salads, dips, sides, and desserts. Neomonde is a healthy, quick-service spot where everything is made from scratch using wholesome ingredients and served up with love. Their families' traditions and passion shines through their food—from their hearth-baked pita bread to their hand-rolled grape leaves (they roll 1,000+ day!), it's clear how much care goes into this stuff.
There's plenty of seating both indoor and out—just be sure you swing by their small marketplace inside before you head out. It's full of Middle Eastern gems you definitely won't find at your local Food Lion.
What to Order
Neomonde's got LOADS of healthy options that'll fit any diet (vegan, vegetarian, gluten-free, keto, etc). We're big fans of the Neomonde Platter ($10), which gives you a taste of all the staples: tabouli, hummus, baba ghanouj, grape leaves, labneh, EVOO, and olives.
If you'd rather venture out on your own, go for the Make Your Own Platter ($9 for 3 sides, $10 for 4), which lets you choose whatever sides you want. Be warned, there are 15+ items to choose from so choosing just three or four can be a challenge!
While many of their sides are traditional, they've also put a few modern spins on those classic family recipes. Butternut Squash Chickpea Salad, Cilantro Jalapeno Hummus (which has a serious cult-following) and Pomegranate Salad are their most popular modern iterations.
They also feature a rotating number of seasonal items, making use of whatever's most fresh and flavorful at the moment. You can always count on finding the tried-and-true classics on the menu, but if you want to branch, out opt for whatever is new.
If you want something handheld, go for a Pita Pocket ($4.79+) stuffed with your choice of protein (we're partial to their rich, spice-laden falafel) and all the fixins'. Or go for Manousheh ($5-$7), which is kind of like a Lebanese version of pizza. Neomonde bakes them in a hearth oven on-demand, before stuffing and/or topping them with savory goodies like spinach, feta, olives and tomatoes.
Do yourself a favor and save room for dessert. They've got five kinds of baklava, maamoul (a kind of Lebanese cookie), and other drool-worthy treats. They're all relatively small—maybe a bite or two big—and cost about a dollar a piece so go wild and get a bunch. You deserve it.
Pro Tips
Their Frequent Foodie program has some sweet perks like a free b-day dessert, and punch card for free food, among other things.

Kids 10 and under eat free on Tuesdays from 4-9p.

Head over on Friday for a killer deal on their signature falafel. Dubbed Falafel "Fry" Day, you'll score a super discounted falafel pitas, salads and/or individual pieces.

If you're visiting their Raleigh location, know that the JC Arboretum is right next door should you want to wander over with your food and have a picnic.