When the folks behind the effort to bring MLB to Raleigh sat down to brainstorm how cities develop a brand to rally behind, their answer kept coming back to baseball. It wasn't just that they were fans—when you think about the mascot or logo for major cities, so much of it revolves around their baseball teams, like the NY Yankees or LA Dodgers hats that people will proudly wear around to represent their city more than their team.
So when they found out that MLB is planning on adding two new teams (in addition to the two teams who will be looking for a new home), they jumped on the chance to get Raleigh in the running. Yes, they wanted the city to have a team to support and a strong brand identity (hence the sleek Raleigh baseball hats they designed that immediately sold out).
And yes, they love baseball and culturally think the sport would fit in here, given Triangleites' general love for the outdoors, delicious beer, and a good time.
But they also wanted to prove that Raleigh deserves a spot on the national stage of major metropolitan areas—and they did their homework to back it up. Their site is full of data showing that the Triangle is in line with plenty of cities who already have MLB teams: in size, in growth, in income, and more. They've even outlined some possible locations for stadiums and the positive economic impact it could have on the city.
Whether we get the team or not, the MLB Raleigh folks are excited about an opportunity to bring the community together in a grassroots way. And bring people together they have. Their kick-off party will highlight some of the best of the best in the Triangle, including a collab beer with Trophy, BBQ from soon-to-be Transfer Co. vendor Longleaf Swine, and Two Roosters ice cream. Plus over 1,000 people interested in coming together and supporting the great city of Raleigh. And they promise more events to come.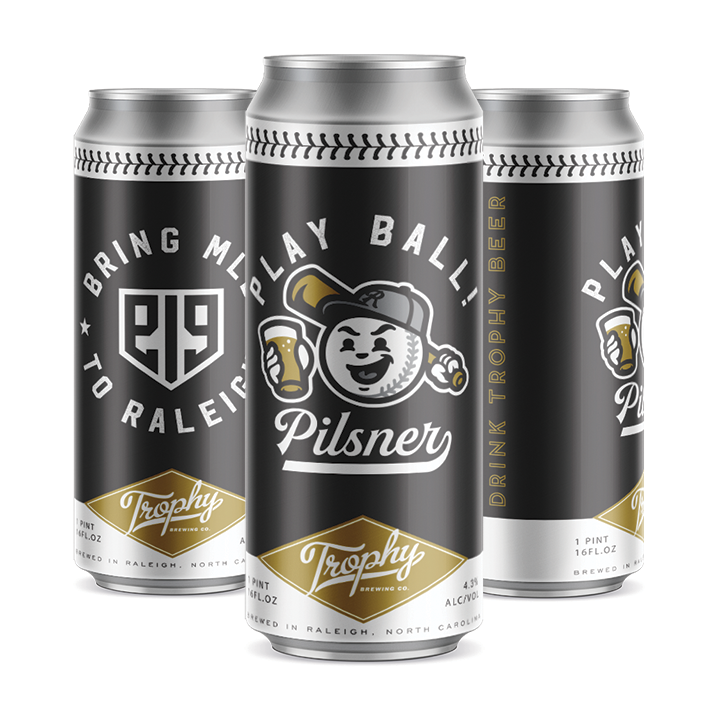 And, whether or not we get the team, they're looking to make Raleigh a better place to live. That's why all profits from events and merchandise will go towards helping fix baseball fields and launch baseball programs in our community, starting with the Boy's Club's field in East Raleigh.
All in all, MLB Raleigh is a pretty exciting movement for Raleigh pride. Check out their site to learn more and "join the movement," snag some pretty sleek merch (when it's not sold out) and head to the launch party to show your support. Baseball or not, we're always down for getting Raleigh on the map.