It's a bird! It's a plane! It's a...scooter?
That's right, there's a new flock in town and you won't find them in the sky—you'll see them (and probably already have) zipping around downtown Raleigh. Bird scooters quietly showed up on the sidewalks of Raleigh yesterday, and they're already the talk of the town.
Here's what you need to know:
Bird is a tech company based out of LA that currently operates scooter sharing in around 20 US cities. It's pretty cool that Raleigh made the list this early. 🙌🏽
Bird's black scooters are electrically operated, meaning you don't have to work as hard to get farther, faster (or to get up those hills on the way to downtown). They can get up to about 15 MPH, and we've gotta say, they're pretty fun to ride.
About 150 of these babies were dropped around Downtown, Cameron Village, and Oberlin.
Each ride costs $1 to start, and then $0.15 per minute after that, making it affordable compared to paying for parking all day or getting an Uber.
We were pleasantly surprised how quick and easy it was to get riding. You simply download the app, enter your payment info, scan your driver's license (you must have one and be 18+ to use the service), and then use the app to find and scan the nearest scooter. Once you're done, you park your scooter on the sidewalk (outside of the path of foot traffic, please), hit "lock" on the app, and you're done!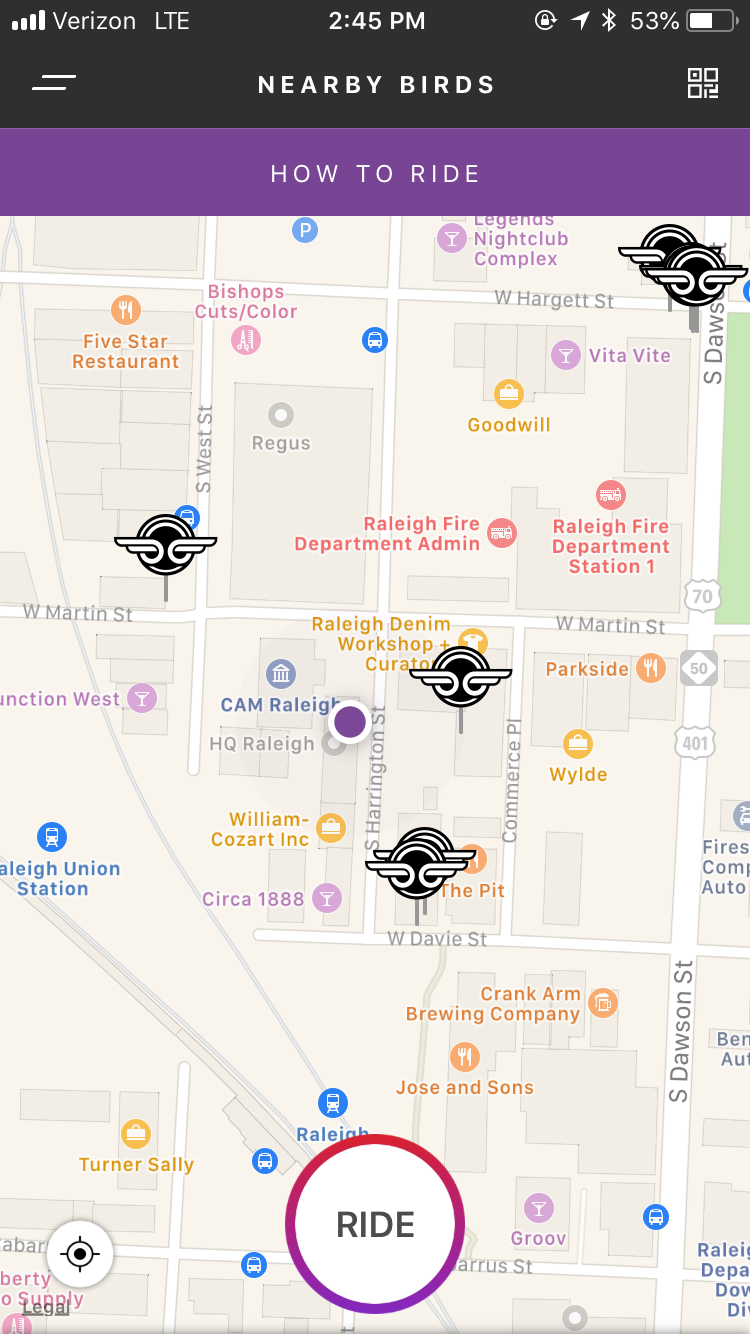 Before you plan your scooter journey to Durham, keep in mind that they only make it about 15 miles before they need to be recharged. The company gathers them up every evening to charge them for the next day, and then redistributes them to popular pickup spots.
Safety is SUPER important. In fact, some cities have banned Birds because of safety concerns. To make sure your ride is fun and not dangerous, treat riding a Bird like you would riding a bike: travel in bike lanes or on the edge of the road (not on sidewalks), wear a helmet (not included with the scooter), follow traffic signs, and give pedestrians the right of way. And maybe stick to Ubers after a night of drinking.
All in all, we're pretty excited about this new way to fly around Raleigh. They're perfect for that mile-long trek that is too far for walking, but you feel lame using your car to get there. They're great for zipping around to all your favorite shops and bars downtown. And they're just fun to ride if you want an excuse to get out in the sun find a new corner of Raleigh to explore.