It's becoming that time of year when trees are trimmed, presents are bought and it is more tempting than ever to curl up with a cup of hot cocoa and hide from the cold. However, it's also the time of year for festive seasonal runs and races.
So this holiday season 2018, think twice before streaming "Love Actually" for the millionth time and instead consider running one of these fun runs. You might find they're exactly what you need to get in the holiday spirit — or at least justify an extra scoop of mashed potatoes at Thanksgiving dinner.
1. STOMP the Monster 5K on Nov. 3 (Cary)
Start off turkey time right by running a scenic 5K on the packed gravel course that has been home to the ACC cross country championships. This race is hosted by STOMP the Monster NC, and proceeds will go towards helping local cancer patients.
Rain or shine, this 5K run/walk will be followed by festivities, including a fun run for kids. Registration is $35 per runner.
Winding through downtown Raleigh, this marathon will feature both road and trail running. Headphones are allowed — a marathon rarity — and all you speedsters will be thrilled to know that this timed course is a Boston qualifier.
If 26.2 is a little much for you, try out one of the other events, including a 5K, 10K, relay and half marathon. Individual marathon registration is $140.
3. Preyer's Race the Bar 8K on Nov. 4 (Greensboro)
Finish at Preyer's Brewing Company for this 8K dash and reward yourself with live music and beer. Unlike previous years, this course no longer includes the hill on Courtland, which will make the elevation a little more bearable on this run.
Registration is $47 and includes a race T-shirt, two beer tickets and a finisher's glass.
4. Blue Blood Rivalry Run 5K on Nov. 10 (Durham)
The UNC/Duke basketball rivalry is taking a backseat to this competitive November road run. Declare your allegiance when you sign up for either a Carolina or Duke blue shirt — or declare yourself a "party crasher" and run in white and red.
Registration is $40 and includes a T-shirt, bottle opener and entry to the post-race party.
5. Dozen Doughnut Dash on Nov. 10 (Chapel Hill)
If you think you can eat a dozen doughnuts and run four miles, more power to you. It consists of running two and a half miles, eating 12 doughnuts, and then finishing the last one and a half on a very full stomach.
If this doesn't sound quite your speed (pun intended), try the non-competitive dash. You can eat a doughnut or two, run the miles and bring the remaining treats home for later. Registration is $25, and you should register soon for either event since T-shirts are not guaranteed for registrants.
6. RDC Marathon on Nov. 10 (Durham)
If 26.2 miles just sounds too easy, try out the brand-new RDC 35.5 or 22.4 challenge. Basically, you can run the 5K or 10K on Saturday, followed by the half marathon or marathon on Sunday. Now that's a weekend.
Fear not if you're more of a one-race-a-weekend runner. Registration for individual events is available, with marathon registration running at $100 (again with the puns!)
7. Santa Paws 5K on Nov. 18 (Raleigh)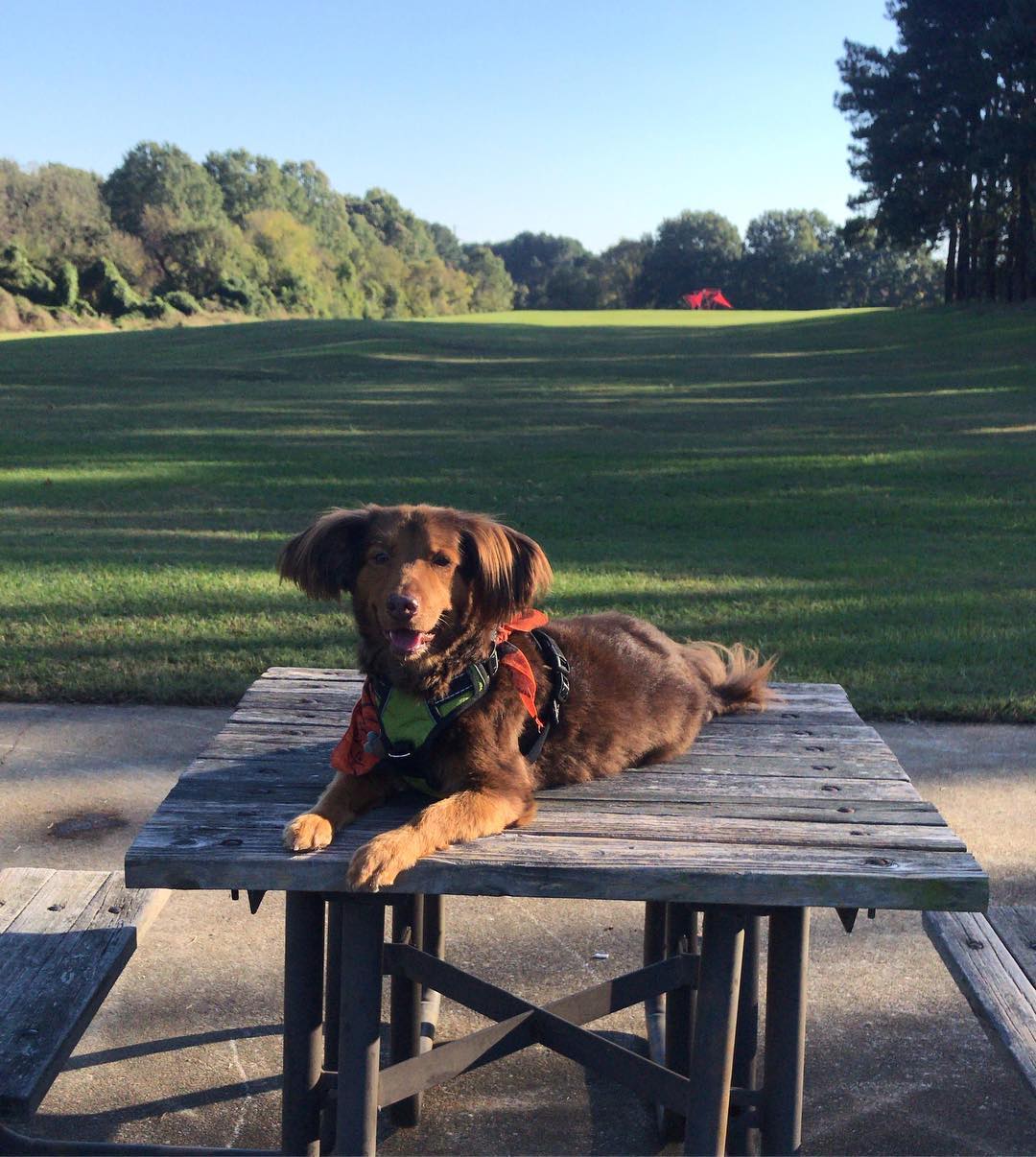 @hannaleahberms
Gather all your four-legged friends for this festive 5K where dogs are not only welcome, but encouraged. This event includes a one-mile fun run/walk for the less competitive dog-lovers out there.
Get your picture taken with your dog, family and the real Santa Claus, all while benefitting the SPCA. Registration is $25 to $45, with lower prices for earlier registrants.
8. Gallop and Gorge 8K on Nov. 22 (Carrboro)
Preemptively work off that Thanksgiving dinner with a run through the streets of Carrboro. This is the third and final race in the 14th annual Le Tour de Carrboro race series.
Registration is $30 for this uniquely-distanced Thanksgiving Day race.
9. Running of the Turkeys 5K on Nov. 22 (Greensboro)
Before you eat the turkey, it is essential to be the turkey. Lucky for you, this 5K provides all participants a turkey hat. Don't worry, vegans. It's not real, so this run is inclusive to all.
Bring the family and doggos, since this race actually has an award for the first canine finisher. Now that's what I call wholesome family fun.
Registration is $15 for the family run/walk and $30 for the full 5K.
This trophy trot is a competitive twist on the classic turkey trot benefitting Healing Transitions, an organization that helps homeless individuals overcome addiction.
Registration is $40 for prior registration and $45 on race day. This includes a race medal and beer, and t-shirts can be added for an additional charge.
11. Jingle Bell LEAP 5K on Dec. 1 (Durham)
LEAP from turkey season to Christmas with this festive 5K walk/run. The event supports the Latino Educational Achievement Partnership, which provides bilingual education and tutoring to elementary and middle school students.
Registration is $15 for the walk and $20 for the run.
12. Jingle Bell Run 5K on Dec. 1 (Raleigh)
In the jingle-jangle morning, you should come running this race. This is the longest-running holiday-themed 5K series in the world — and supporting the Arthritis Foundation by registering can be your good deed of the season. Tying jingle bells to your shoelaces can just be an added benefit.
Registration is $40 and includes a race bib, jingle bells and a sweet long-sleeved T-shirt. A one-mile run and kids' fun run are also available.
13. Run at the Rock 7 and 14 Miler on Dec. 1 (Burlington)
This trail run is not for the faint of heart. The course, described as "tough as nails," draws some of the best trail runners of the state — but even beginning runners are welcome.
Registration is $50 for the seven-miler and $65 for the 14-miler. Registering for either race guarantees a gender-specific t-shirt.
14. Reindeer Run 5K on Dec. 8 (Pittsboro)
Strap on your antlers. It's time to run.
This 14th annual 5K run and walk begins and ends on the paved trail of the Central Carolina Community College. Registration is $30 for individuals and $20 for teams.
15. Jolly Elf Trail Run on Dec. 8 (Cary)
This holly jolly 5K and one-mile run/walk is the last event in the fifteen-race Second Empire Grand Prix Series. Bring the whole family, because this features a kids' dash
Registration for the 5K is $30 through Dec. 7 and $35 the day of the race, and includes a T-shirt.
16. Blue Cross Blue Shield Half Marathon on Dec. 8 (Durham)
You distance fanatics out there can get in half marathon through Durham before January temperatures make such distances a bit harder. 10K and 5K races will also be offered, along with a holiday kids' fun run before the adults start.
Registration is $84 for the half marathon, $43 for the 10K and $33 for the 5K. All participants will get a festive race tech T-shirt when they sign up.
17. Fortnight Before Christmas Run on Dec. 9 (Cary)
'Twas two weeks before Christmas and all through Fortnight Brewery, sweaty runners were celebrating their accomplishment with pints galore.
This brand-new holiday race by Fit & Able will feature a 3-mile, 2-mile or 1-mile race, all with chip times. All finishers will get a pint glass with registration, and Fortnight will buy the first pint for the first 100 racers to register.
Registration is $30 for the 3-mile, $25 for the 2-mile and $20 for the 1-mile. Racers can get a T-shirt for an extra $10 with any registration.
18. Cozy Toes 8K and 5K on Dec. 15 (Cary)
Bundle up for this race, hosted by Fit & Able and the NC State Highway Patrol. Runners will get a chance to go on the NC State Highway Patrol Driving Track, so embrace your inner car and speed through.
Registration is $40 for the 8K and $35 for the 5K, and long-sleeved T-shirts are guaranteed for those who sign up before Nov. 30.
19. Commitment Day 5K on Jan. 1 (Cary)
New Year's Day is a time for resolutions, and there's no more responsible way to ring in the new year than with a morning 5K fun run.
Tickets are $25 and include a T-shirt, race bib, medal and brunch social after the run. Kids under 12 running with a registered adult can register for free.