Cocoa Forte is one of our Premium partners for Raleigh, so we headed over there to get the DL on how to have the best experience possible. Whether you're Premium or not, read on to learn why it's awesome, what dishes not to miss, and pro tips for making the most of your time (and moolah).
Not in Premium (or not even sure what we're talking about)? Learn more here about this monthly subscription for exploring your city and get on the waitlist (or ask one of your Premium friends for a referral to skip the line!).
Cocoa Forte 101
Honestly, we could distill this article down to just three words: Chocolate. Dipped. Cheesecakes.
But while that's probably what you already know Cocoa Forte for, it would be doing them a disservice to stop there because the whole story much sweeter.
This local desserts company was started by a husband and wife team, and was more of a hobby than anything else at first. They just had a tiny tent and a freezer and would pop up at events around town to dish out these delightful treats. But their desserts were obviously a hit (again, chocolate dipped cheesecakes), so they quickly upgraded to a food truck and more recently opened their first brick-and-mortar as part of Morgan Street Food Hall.
While they experimented with different menu additions in their larger Morgan Street Space (like the crazy brunch waffles you may have seen floating around the 'gram), Cocoa Forte has moved to a smaller kiosk in the hall so they can focus on their bread and butter (er, cheese and cake) again. Besides their signature dipped cheesecake on a stick, you can get some perfectly bite-sized sharable (or snackable) treats. Find them in the big dining hall across from the flower shop for exactly what your sweet tooth has been searching for.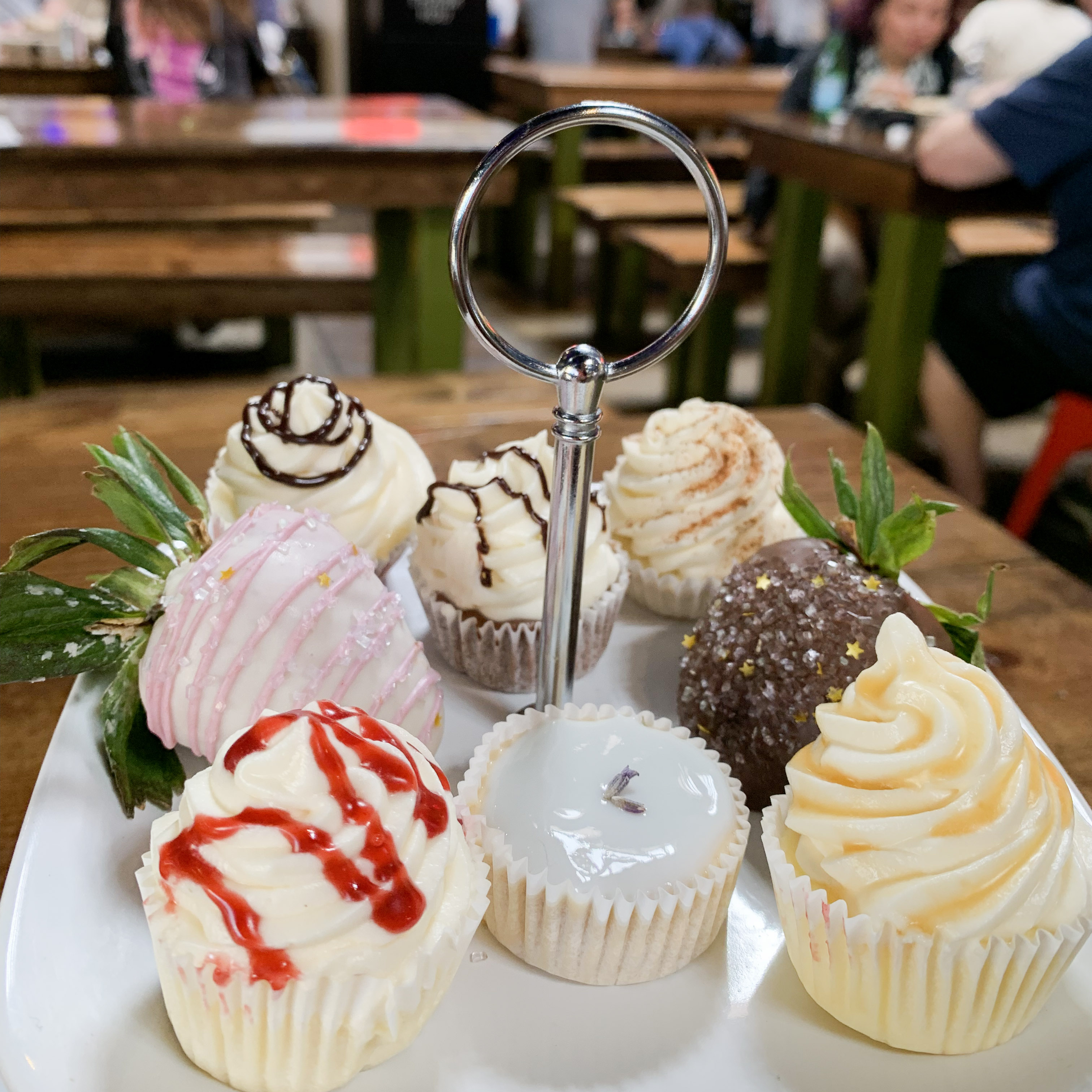 What to Order
The dipped cheesecake slices ($5) are the most obvious choice. Cocoa Forte is famous for these slices of vanilla cheesecake dipped in various flavors like chocolate peanut butter or toasted coconut, then topped with all sorts of crunchy delights and served up on a stick.
The one (and only) problem with these is that they're hard to share or save any for later. That's why Cocoa Forte has added smaller choices that you can mix-and-match into the perfect box of treats: cheesecake bites in a variety of flavors (vanilla oreo or cinnamon roll, anyone?) and topped with a signature cream cheese frosting, mini cupcakes, and even chocolate-dipped strawberries for the ultimate decadence.
You can snag mix-and-match boxes of these bites ($7 for four, $18 for 12, or $29 for 24) to bring to a party, give as a gift, and generally be everyone's new best friend. (Or just eat by yourself, no judgement.)
Cocoa Forte is also always experimenting monthly signature flavors (like May's margarita flavor with lime, tequila, and salt) and new desserts entirely, so you might find a sweet surprise in the display case when you go. Watch their social media for specials, and since everything they make is delicious, we recommend trying whatever catches your eye.
Pro Tips
They always have birthday candles or sparklers on hand, so make sure to ask if you're buying these for a celebratory treat! (Even if that celebration is just that you made it through Monday.)
As we mentioned above, they moved locations within Morgan Street Food Hall! You can now find Cocoa Forte in the big dining room across from the flower shop.
Cocoa Forte has two food trucks that are around the Triangle daily. You can follow them on social media to see where they'll be showing up—or book them for a private event! (Note that Premium credits aren't valid at the truck or for private bookings.)
Need some treats in a hurry? Cocoa Forte offers delivery through Uber Eats, Postmates, and Door Dash for only a small fee. (Note that Premium credits are valid for online ordering.)