Okay, yes, Downtown Raleigh is losing its beloved street food spot at the end of the year, but don't panic just yet—bu•ku will reopen in Cary next year (phew!). Until then, you've still got the rest of 2018 to take advantage of their classic DTR vibes and seriously delicious dishes. Plus, Premium members each get a $25 tab here in November.
Located on the corner of Wilmington and Davie in downtown Raleigh, bu•ku is a melting pot of global cuisine; they focus on shareable small plates that highlight signature ingredients from countries around the world. It's all served in a cozy, upscale atmosphere that's somehow perfect for both large groups and intimate date nights.
In addition to their extensive small plate offerings (which range from $6-14), they've also got full-size entrees, lunch specials and an entire vegan and gluten-free menu FTW. Their cocktail game is strong (more on that later) and they've got a crazy long wine list that manages to cater to both wine snobs and novices thanks to categories like "Friendly Bubbles" and "Stranger Bubbles".
Now, there's no word yet on what will be on their upcoming Cary menu so we're playing it safe, rounding-up the most famous, most delectable, most unmissable dishes you NEED to order at their Raleigh spot while you still can—this might be the last time you'll ever be able to get your hands on this stuff.
[Psst! bu•ku is Offline Premium's featured November partner, offering all Premium members $25 to spend at their DTR location. Not Premium yet? Join the waitlist or ask one of your cool friends for an invite.]
1. bu•ku Hot Pot ($18)
bu•ku's signature hot pot dish has a cult following for a reason—it's a giant steamy bowl of soul-warming soupy goodness, perfect for these quickly-dropping temps. Featuring Thai red curry, coconut, roasted chicken, house mushrooms, rice noodles, scallion, bean sprout, shallot, cilantro and chile oil, you should be warned: this curry's got kick but the burn is totally worth it.
2. Citrus-Poached Lobster Larb ($14)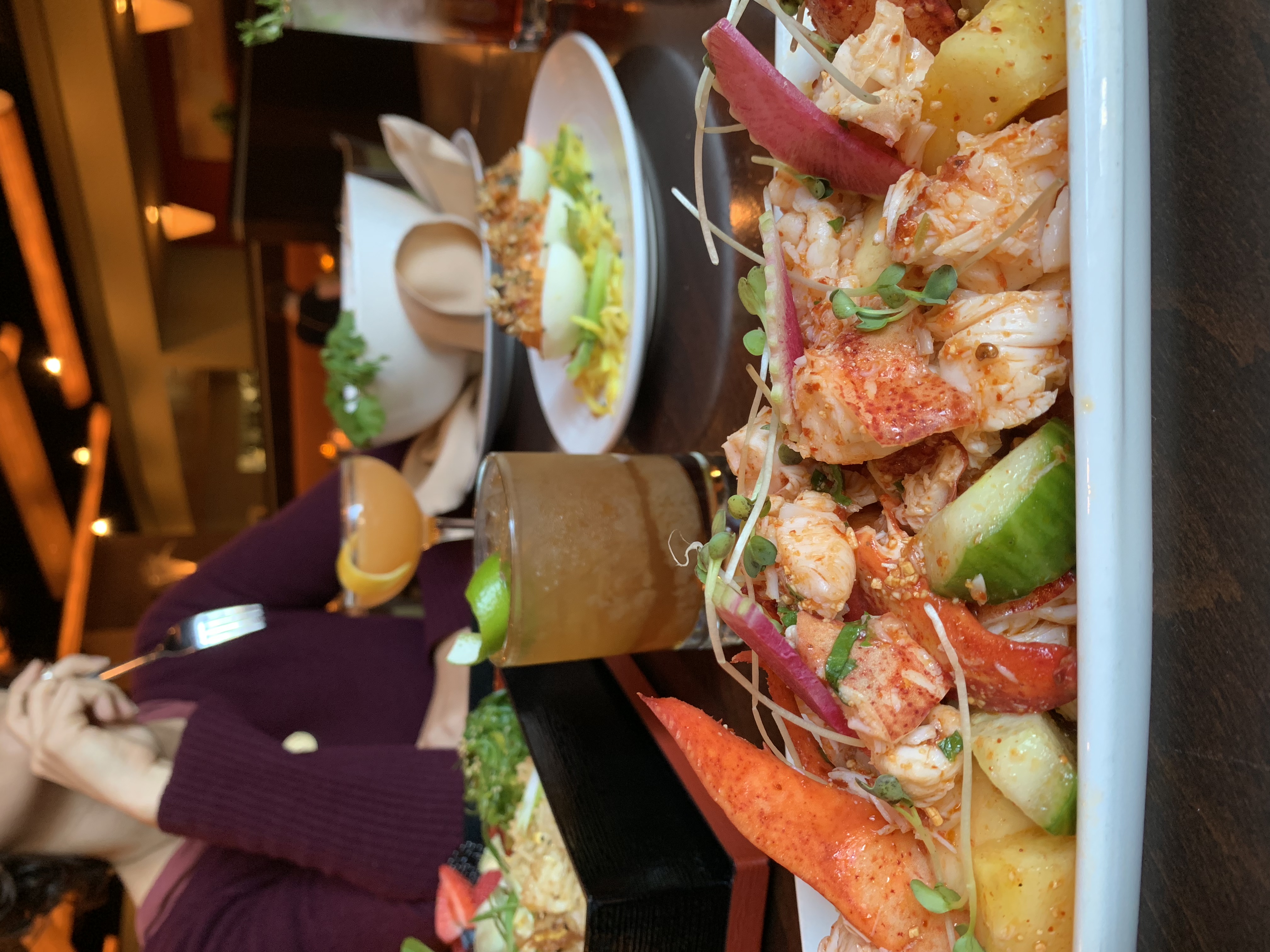 Here, lobster gets the Laotion treatment, delicately poached and tossed with pineapple, cucumber nuoc cham, lemongrass and more. It's a dish that's spicy, sweet, sour and salty—all at once. Like many bu•ku dishes, this one seems to satisfy all the senses. And does anything feel quite as indulgent as feasting on a large plate of succulent lobster? We think not.
3. Nordic Scallop Crudo ($12)
Sushi lovers, this one's for you. This thinly sliced, silky raw scallop basically melts in your mouth. Dressed up with dill vinaigrette, pickled apple, celery root and barley granola, it's got fresh, dynamic flavor and a plating that's artistic AF.
4. Citrus-Roasted Beet Hummus ($8)
@bukuraleigh
Okay, this one is just too damn pretty not to mention. It features fresh, uber-colorful beets, za-atar, sunflower seeds, and radishes. Dunk a cumin-dusted pita in this super-saturated, hot pink dip and you'll discover it tastes just as good as it looks.
6. A Budget-Friendly Lunch Menu ($10-14)


While bu•ku is definitely more a *refined* spot for dinner, lunch has a much chiller vibe (not to mention it's extra wallet-friendly). Find fresh lobster rolls ($14), Cubano sandwiches ($12) and more. Our personal fave is def the bu•ku bento box, which is served with char siu bao (steamed pork buns), fresh fruit, seaweed salad and scallion fried rice ($12)—be warned, it's a LOT of food but if you're looking for a solidly-delicious, bang for your buck meal, this is it.
7. Literally Any Drink on Their Menu ($9-12)
It feels like a crime to talk about bu•ku's food without mentioning their killer drink menu. In addition to a comprehensive wine list, their cocktail offerings are as eclectic and creative as their food menu. Our top picks? The Smokey Bear ($10) features gin, cold brew coffee, ancho chile, cardamom, ginger, lime juice, and local Crude 'Big Bear' bitters—it's spicy and complex, yet surprisingly drinkable. And the Rosé Spritz ($11, pictured above) is kinda like the lovechild of a Negroni and a delicate glass of rosé. It's light and refreshing, with a little bit of bite thanks to local Crude bitters.
8. Bubble Waffles ($9)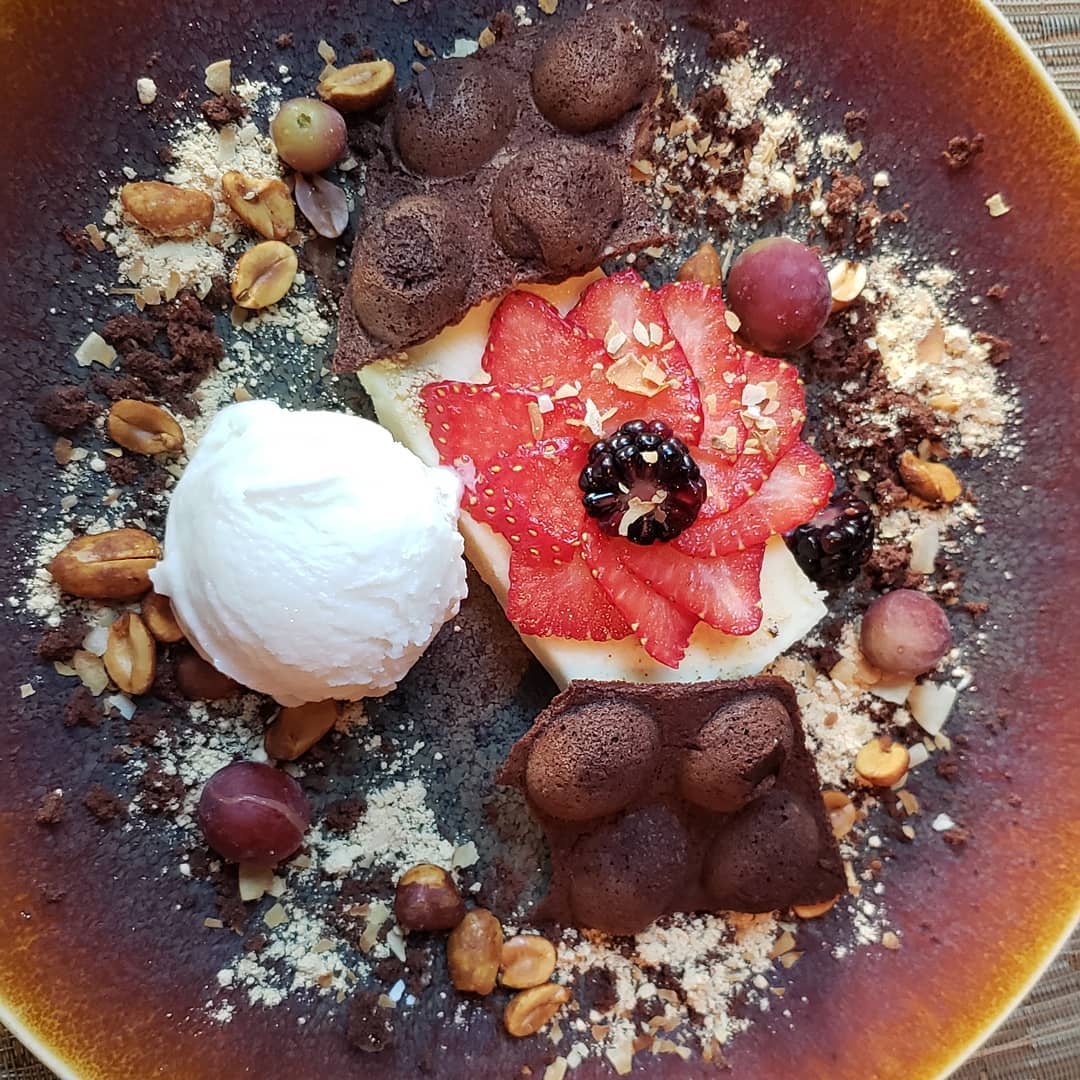 @kimberlywolfmanrealtor
Last but not least, we hope you saved room for dessert cause this one is definitely worth ditching your diet for. You've probably seen a version of these on your Insta-feed: airy, golden-brown waffles with crispy, perfectly-spherical cells. And at bu•ku, their expert pastry chef upgrades this traditionally Asian street treat by making a chocolate batter and serving the finished bubble waffles with white chocolate mousse, strawberries, coconut ice cream and frozen grapes. Um...yes, PLEASE.
And We Saved the Best for Last...
Offline Premium members get a $25 credit to use at bu•ku's DTR location, anytime in November. Not Premium yet? Get on the waitlist (or better yet, ask one of your existing Premium friends to hook you up with a referral code to skip the list).