It's no secret that Raleigh is growing fast—the cranes and construction are obvious, yes, but there's MUCH more coming. That's why we're introducing the "Future of Raleigh" series. We tapped our partners at Berkshire Hathaway HomeServices York Simpson Underwood Realty, along with a couple of local experts and business owners, to help us bring you the inside scoop on all the exciting things to come—not just next month or next year, but five years into the future (because the kind of *major* developments we're talking about take a minute!). In each article, we'll hone in on specific, up and coming neighborhood to give you a comprehensive view of who's coming to town, what to look forward to and where you'll be getting offline in 2020 and beyond.
For years, Glenwood South has been faithfully known for its nightlife. But, with the help of a couple of cranes, a lot of dollars, and vision from real estate developers near and far, good ole' Glenwood is undergoing a transformation that will bring a world-class hotel, new park, grocery store, a possible 40-story skyscraper, and more into the mix. If you're a Cornerstone diehard, fear not, the wrecking balls are mostly hitting the bookends, and leaving the strip more or less untouched...for now.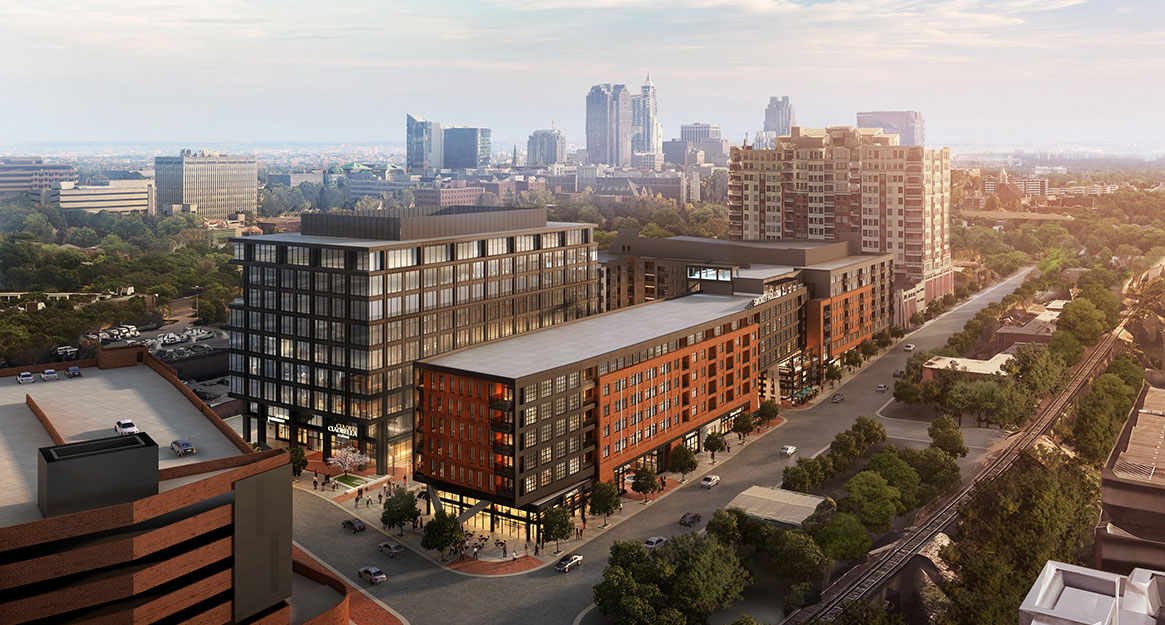 The Three Phases of Smokey Hollow
If you haven't noticed the construction of this new monster development going up on Peace St., you really need to get out more. Kane Realty (the folks behind North Hills and The Dillon) is the mastermind behind the enigmatically dubbed Smokey Hollow, a three-phase development site that will bring a much needed grocery store to the area, hundreds of apartments, retail, office space, parking (praise be), and a pedestrian promenade that makes Raleigh feel all grown up. Here's the breakdown of the three-phase development and roughly when to expect what.
Phase One
Rendering by Kane Realty
Phase One has been in the works for a bit, and thank the real estate lords, 'cause it will bring a grocery store to the neighborhood, and the first real grocery to downtown (sorry Weaver Street, we love ya, but we need a place we can buy it all). Phase One also intros the Peace Apartments, 417 units of living space, as well as parking. Find it all on the corner of Peace St. and West St.
Plan to start making trips to Publix come spring-summer 2020. Be warned: their sammies have a cult following.


Phase Two
If you're not as jazzed as some of us about groceries, then Phase Two of Smokey Hollow might be more your speed. Construction has already started on office space, more parking, another 283 units of living for The Line apartments, and a "pedestrian promenade" that is surrounded by 40,000 sq. ft. of retail and restaurants.
Plan to start making dinner resos on the promenade in early 2021.


Phase Three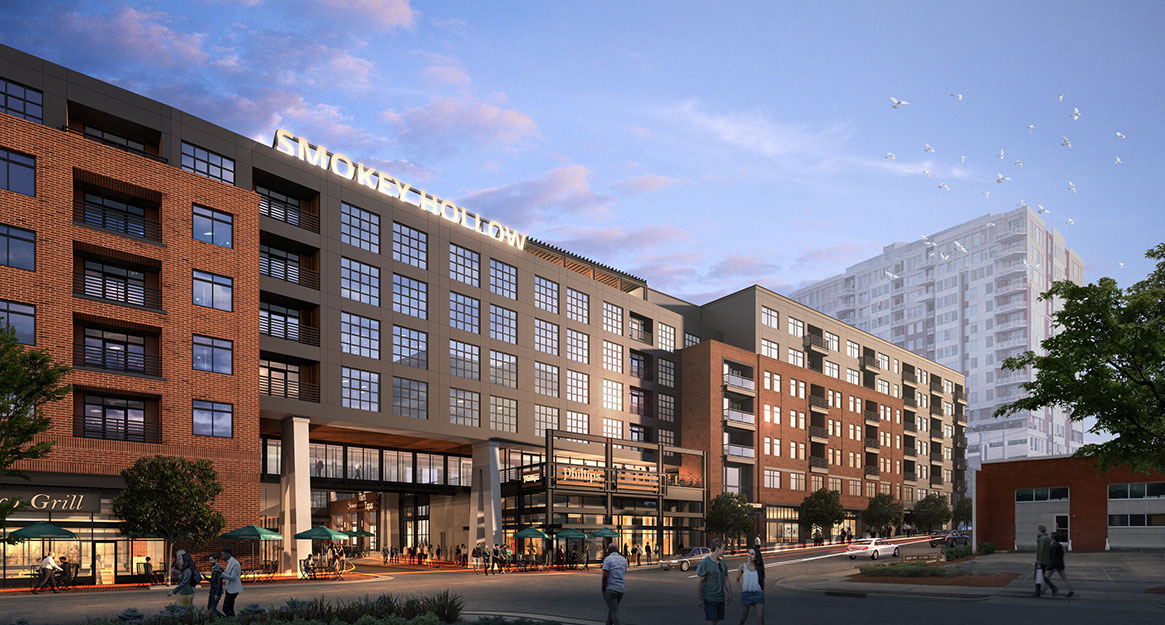 What will Phase Three bring? A mixed-use development of some sort, but the details are still fuzzy on this one. What we do know is that Kane Realty and Williams Realty (partners in Smokey Hollow), recently got the thumbs up from the Raleigh Planning Commission to their proposed 40-story tower. This doesn't mean construction crews are rolling out quite yet, they still need to get approval from City Council, and secure financing. The site is currently zoned for 12 stories. Check out all the renderings here.
Time will tell on this one. Stay tuned.
Glenwood Goes Green: Devereux Meadows
If you're overwhelmed with new construction, don't get too bummed out, a new park is slated adjacent to Smokey Hollow. The Glenwood Green plan, as presented in 2015, essentially maps out that a couple of city-owned buildings will get the boot, and Pigeon House Branch, a forgotten stream, will get dusted off to make way for Devereux Meadows. This will be Glenwood South's newest serene space, what you might call a "passive park" or a park that without frills like courts or fields. The core components of the Glenwood Green plan are to create 2.5 miles of greenway connecting Pigeon House Branch from Peace St. to Crabtree Creek trail while uncovering parts of the stream that are buried. See an illustration of the whole plan here.
Work cannot fully begin on the project until the Department of Transportation finishes construction on the Capital Boulevard bridge at Wade Ave and Capital bridge at Peace St.
A Music City favorite puts down roots in Raleigh
Glenwood is already known as a hub for nightlife, but as soon as September 2019, The Tin Roof, a new bar and music venue will be moving in on the corner of Glenwood and Lane. Longtime Raleighites will remember this as the location of the sleepier spot Clark Art, a fixture on Glenwood for over half a century. Construction crews have been working to transform the one-story art supply shop into two stories outfitted with a full kitchen, open-air rooftop, and a stage.
The Tin Roof originated in Nashville in 2002, and aims to provide a stage for a mix of local, regional, and national acts that haven't signed with a major label. Expect live music every night (they already have an event calendar up), Southern fare that's "better than bar food" (their words), and Glenwood to get a lot more lively.
Bloc 83 - Hotel + Office + Retail
The collective project of One Glenwood, Tower Two, and the Origin Hotel is "Bloc 83" in reference to old city plans from the 1800s.
One Glenwood made its debut on the strip earlier this year, and now its sister tower, Two Hillsborough, is getting her start. Tower II will be similar in size to One Glenwood, and create a courtyard in between the buildings with plans for a coffee shop made from shipping containers, a concert stage, and a turf for outdoor yoga and events.
All the bricks have been laid at One Glenwood, but there are still a couple of things to look forward to. The displaced Dram & Draught found a new home on the ground floor of One Glenwood, and their fresh digs are awesome. There's also news that Zamberero, an Australian fast-casual concept serving Mexican with a mission, is moving in One as well.




Origin Hotel
From a quick cruise around the website, The Origin Hotel is catering to the most Millennial of the Millennials. While the upcoming AC Hotel (more on that in a sec) is also speaking to that demo, Origin appears to be for the crowd that do it for the 'gram. This will be location number four for the hotel chain, with other spots in Colorado and Kentucky. As a company, they promise to always be in-the-know about events (sounds familiar), provide awesome workout facilities and healthy eats, and partner with local purveyors to bring beer, coffee, and more in-house. And even if you don't have a need for a room, they'll have a restaurant and bar for all to enjoy.
Book a room or grab a drink in winter 2019. In the meantime, get the vibe here.
The Willard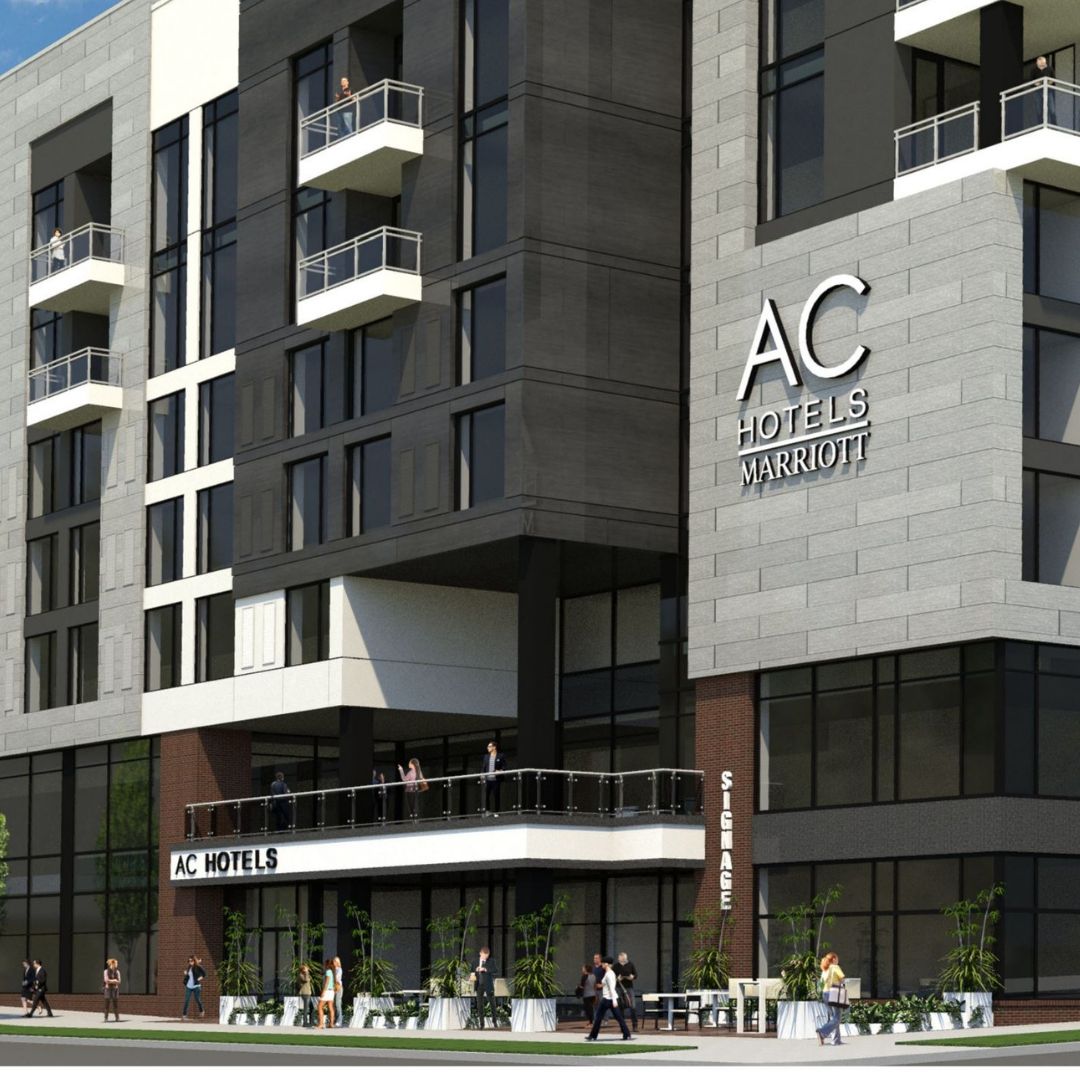 Rendering by Summit Hospitality Group LLC
It seems that Glenwood South will soon be the new spot for out-of-towners to stay. The Willard is a hotel in the works from AC Hotels by Marriott, Marriott's olive branch to Millennials. Soon, seven stories will rise from the corner of Willard St. and Glenwood, towards the neighborhood's southern side, close to One Glenwood. Plans show 121 hotel rooms, an attached parking garage, and street-level retail. Rumor had it there were possibly going to be a handful of condos included (live Eloise-style), however, this has not been confirmed. AC Hotels are known for being stylish and modern, catering to Millennial wants and needs. They frequently have a bar and lounge area that functions as a co-working space by day and easily transitions to a buzzy bar by night. With 145 locations around the world and counting, they must be doing something right. Until doors open, get cozy with AC on their Insta, or at their other Raleigh location in North Hills. Check out all the renderings here.
To recap:
Over the next years, Glenwood South is going from the neighborhood for nightlife to a destination for office space and out-of-towners. Be on the lookout for...
If you're looking to upgrade your office space, there's some avail (Tower II or Smokey Hollow) in walking distance (or Citrix Cycle distance) to like everywhere.
For plentiful new drinking, dining, and shopping options to come.
For live music to spill out onto the streets nightly.
If your pad is overflowing with guests, you have an anti-air matresseser coming to town, or you just want to get out of the house, Glenwood South has options! And, they look darn good.
For a green space to escape the concrete.
In short, there's a lot coming to 'hood. If you want to live among the action (a reminder that there are a bunch of gorg new homes up for grabs nearby too), give our friends at Berkshire Hathaway HomeServices York Simpson Underwood Realty a shout. Not only are they knowledgeable about Raleigh (case in point: they helped us write this!), but they're experts on the ins and outs of home buying. We've been hanging with them at our new Premium neighborhood happy hours, so we can personally attest to the fact that they're easy to talk to, trustworthy, and on top of their game. Click here to get the convo going.