The Need-to-Know
What: Authentic Zimbabwean soul food + other South African delights
Where: 4600 Durham-Chapel Hill Blvd Suite 26, Durham, NC 27707
Web: Website | Menu | Instagram
Why we love them:
They're the first authentic Zimbabwean restaurant in America.

It's a fully immersive experience, from the Zimbabwean music to the imported decor and Zimbabwean chef-curated dishes.

Their entire menu is made up of authentic dishes inspired by the chef's real-life experiences in Zimbabwe.

There's plentiful options, no matter your dietary restrictions, food allergies, or preferences.
**Pssst: Zweli's is one of our Premium partners, so we headed over there to get the DL on how to have the best experience possible. Not in Premium (or not even sure what we're talking about)? Learn more here about this monthly subscription for exploring your city (or ask one of your Premium friends for a referral to score your first month free!)**
Zweli's 101



In an area of town that's seemingly overrun with chain restaurants and busy highways, you'll find Zweli's Kitchen, America's very first (and only) authentic Zimbabwean restaurant and the community-voted Best New Restaurant in Durham County. It's located in an unsuspecting strip mall, but don't let that fool you. Take one step into this unapologetically South African restaurant and you'll find yourself immersed in Zweli's incomparable Zimbabwean experience—no passport necessary.
Here, tropical tunes by Zimbabwean musicians play over the loudspeaker, and the room is filled with unique wood embroidered statement seating plus imported pottery and drums handmade by Zimbabwean villagers. But just in case you're not familiar with Zweli's story and how this place came about, we're going to take it back to the beginning, because it's been one helluva ride.
Zwelibanzi (Zweli) Williams, grew up in Zimbabwe and learned firsthand how to create anything out of the resources that grew in abundance around her (developing quite the reputation around town for doing so). She left Zimbabwe to get her degree in hospitality and tourism at NCCU where she met her future hubby and biz partner, Leonardo. Together they started their own catering business from the ground up—and, no surprise here, it essentially took off overnight, landing catering opportunities with notable universities who couldn't get enough of her delicious food.
Before they knew it, they were signing the contract for their first brick-and-mortar, thanks to their meant-to-be encounter with a businessman who believed so deeply in the Williams' restaurant vision. They painted the walls, decorated the space, wrote their entire menu on a chalkboard that spans the length of their open kitchen concept, and announced their opening to the public. Before they even opened their doors, eager bloggers were waiting outside to get the first taste of what was to come from Zweli's Kitchen.
What to Order
Peep their menu and you'll see Piri Piri popping up everywhere. It's been her local claim to fame for good reason, earning it an entire section of the menu. But what is it? Basically, it's just a chili pepper plant native to Zimbabwe that grew bountifully in William's backyard back home, but the way it transforms dishes is pure magic.
But Piri Piri isn't the only showstopping spice that folks are raving about. Peanuts and curry are also mainstays on Zweli's palate, so they're instinctively woven within her signature cooking style. Now that we've got the basics covered, let's dig into the dishes.
Lots of Hearty, Wholesome Meats and Mains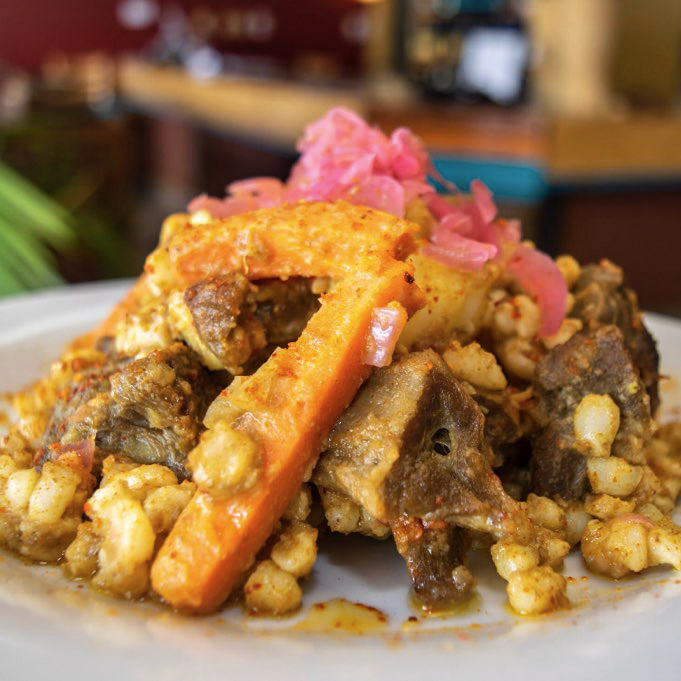 Starting off strong with a seriously satisfying staple of Zimbabwean cuisine, Samp & Goat Curry is a wintry addition to the menu that packs in loads of flavor and warmth, featuring tender, curry-braised goat meat mixed with samp (saucy crushed corn kernels).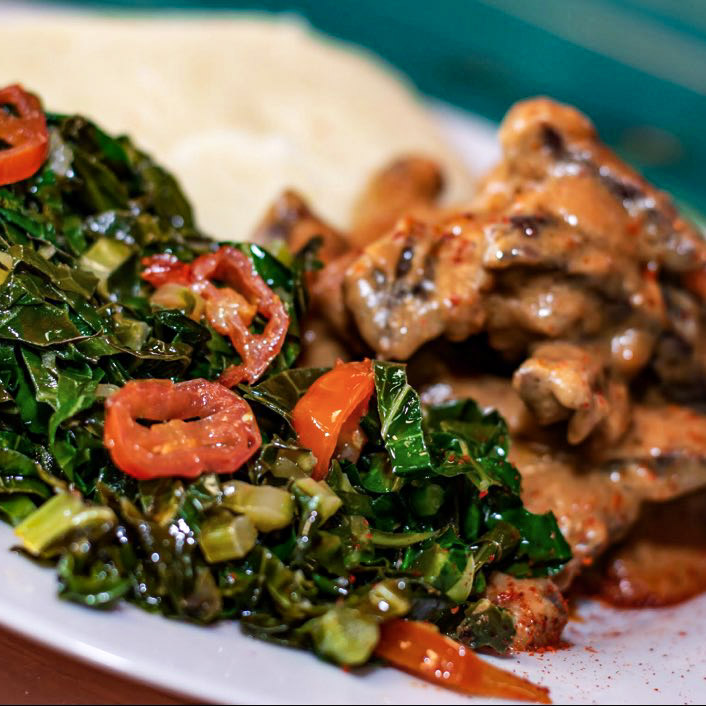 Next up? Biltong is Southern Africa's version of beef jerky, only slightly rehydrated, slow-cooked, and shredded thinly. But Zweli's take on it, true to her childhood, means it's smothered in a fresh peanut sauce, served with shredded Collard Greens topped with Piri Piri (obvi), and paired with Sadza (kind of like the African version of grits).
You'll be begging for seconds within a few bites of the Boerewors Sausage Roll. Because located only two hours away, Zweli's sources their sausage from a Zimbabwean butcher who's an expert in making the Southern African sausage. They regularly head out there to bring it back fresh, then serve it up at their spot in a spongey roll, paired with house sides—authentically damn delicious.
Can't choose? Go for the Zim Combo if you want it all (literally). It's loaded up with all of her fave delicacies, like smokey and flavor-filled Boerewors sausage, a dozen flame-grilled wings doused in Piri Piri sauce, tender Oxtail, and your choice of three more large sides.
Plus Signature Vegetarian and Vegan Delights
Don't be misled by all the meat because they've got some vegetarian and vegan menu mainstays that will definitely win against some of your go-to spots. Kicking things off with their drool-worthy flame-grilled Piri Piri Tofu, it's a deliciously dense meal served on skewers and can come on its own or with your choice of sides.
They've also got Black Bean and Chickpea Burgers that are literally stacked with peppers and protein, then served with their house Piri Piri chips.
And Finally Some Classic African-Style Desserts
If you've never had Nhopi, you're truly in for the sweetest treat. Think African-style creme brulee, essentially a pumpkin puree with a porridge-like texture served warm and slightly caramelized.
And don't forget an order of Zweli's Magwinyas, which are Zimbabwe's deep-fried doughnuts similar to an American-style funnel cake. They're topped with powdered sugar and are the perfect ending to a Zweli's visit.
Pro Tips:
You can ask to sample almost anything!
Already eyeing certain dishes? Call ahead to make sure they've got it the day you're going (because to maintain their notable quality, everything is sourced directly and made fresh!).
The menu is naturally allergy-friendly, especially the predominantly vegan and vegetarian sides.
Keep an eye out for the Piri Piri plants coming soon. Yep, they've got plans to let customers experience firsthand what it's like to live in Zimbabwe, pick peppers off a plant, and crush them directly into your food.
They've also got plans to bottle up their famous Piri Piri peppers too!