Just an hour from the Triangle, you'll find a town that's "rural renaissance" done right. Welcome to Saxapahaw, NC: a tiny town that shines year-round with scenic views, industrial-chic vibes and hyper-local food—but the place REALLY comes alive in the summer when nature conditions are peak and their free weekly festivals are in full swing. Pack a bag, spend the weekend (hope you like sleeping in a renovated school bus!) and soon you'll see why Saxapahaw is quickly becoming NC's newest cultural and culinary destination—it's got Asheville vibes, minus the Asheville drive.
Psst: TL;DR? Check out the video!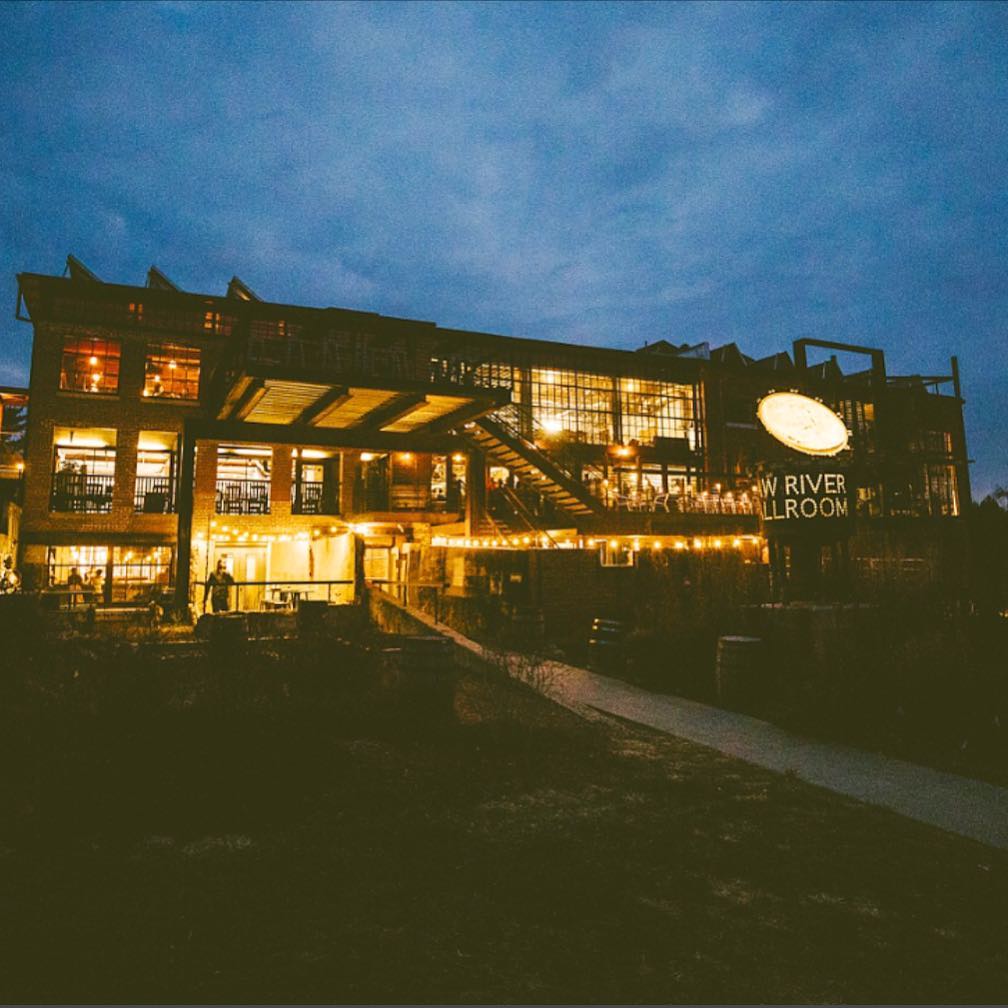 photo @hawriverballroom
SATURDAY
10:00 am
Fuel Up at The Saxapahaw General Store
Roll into town and the first thing you'll find see is The Saxapahaw General Store. Part mini-mart, part gas station and part restaurant, this is one-stop shopping at its quaintest (no wonder it's been dubbed a "five-star gas station"). You'd do considerable damage trying to shop here while hungry, so do the responsible thing and start off with a homestyle breakfast on the back patio. They've got an impressive menu of rotating specials etched onto a colorful chalkboard menu up front (they're also open for lunch and dinner, FYI). Now, fully fueled, you're ready to peruse the aisles and stock up on goodies for the weekend. Full of NC brews, organic veggies and locally sourced provisions, this country store's got everything you need. At heart, it's a grade-A community gathering spot—a perfect introduction to what Saxapahaw is all about.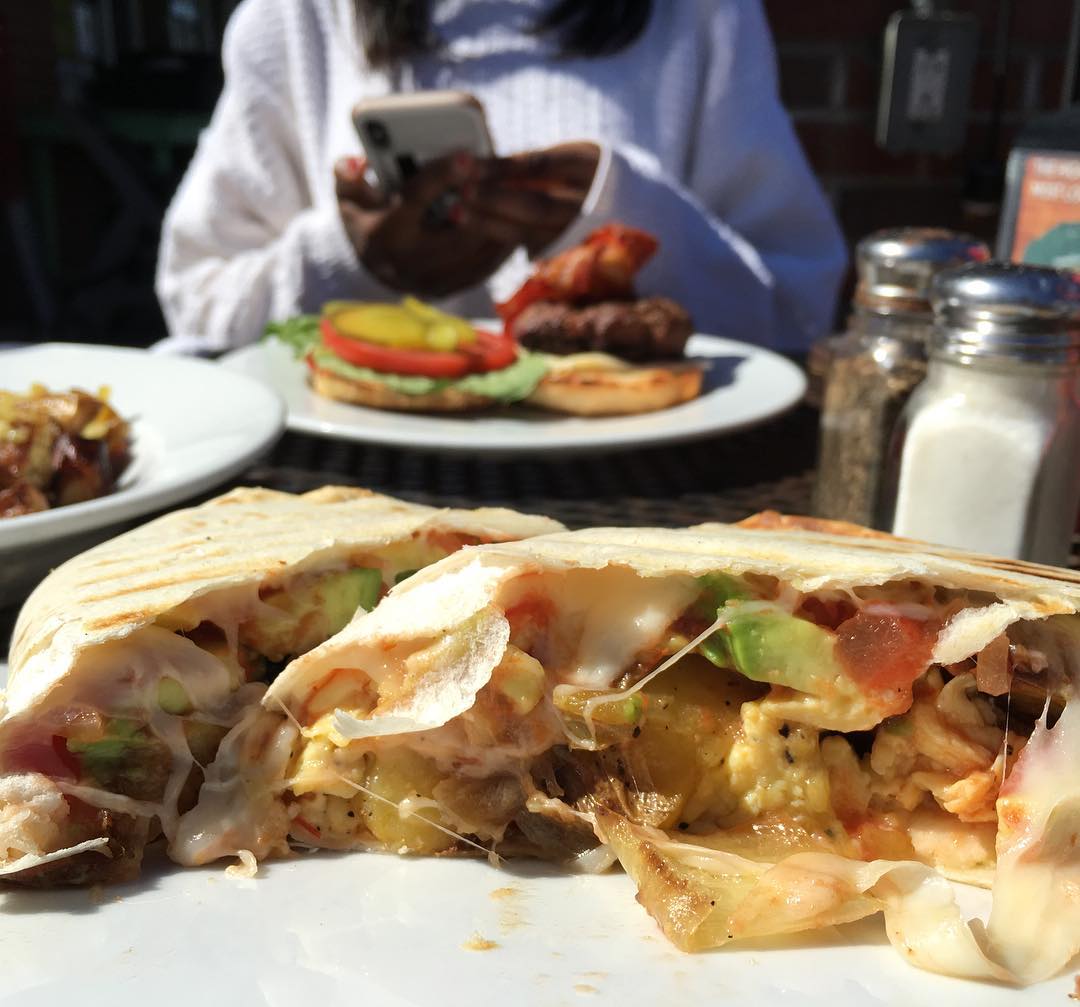 photo: @menu_please
Saxaphaw General Store | 1735 Saxapahaw-Bethlehem Church Road | Saxapahaw, NC 27340
11:15 am
Destress at The Bridge at Rivermill
In order to really slip into vacay mode, you've got to clear your mind and feed your soul. Right next to the river, you'll find The Bridge at Rivermill. This is holistic center houses a collaboratory of healing arts practitioners who offer services such as acupuncture, therapeutic massage, herbal consultation, and yoga. On Saturdays, they offer Stretch, Restorative Self-Massage and Crystal Singing Bowl Meditation classes (all $5-$20 suggested donation), in addition to special events and workshops. Drop in, breathe in and feel your stress melt away.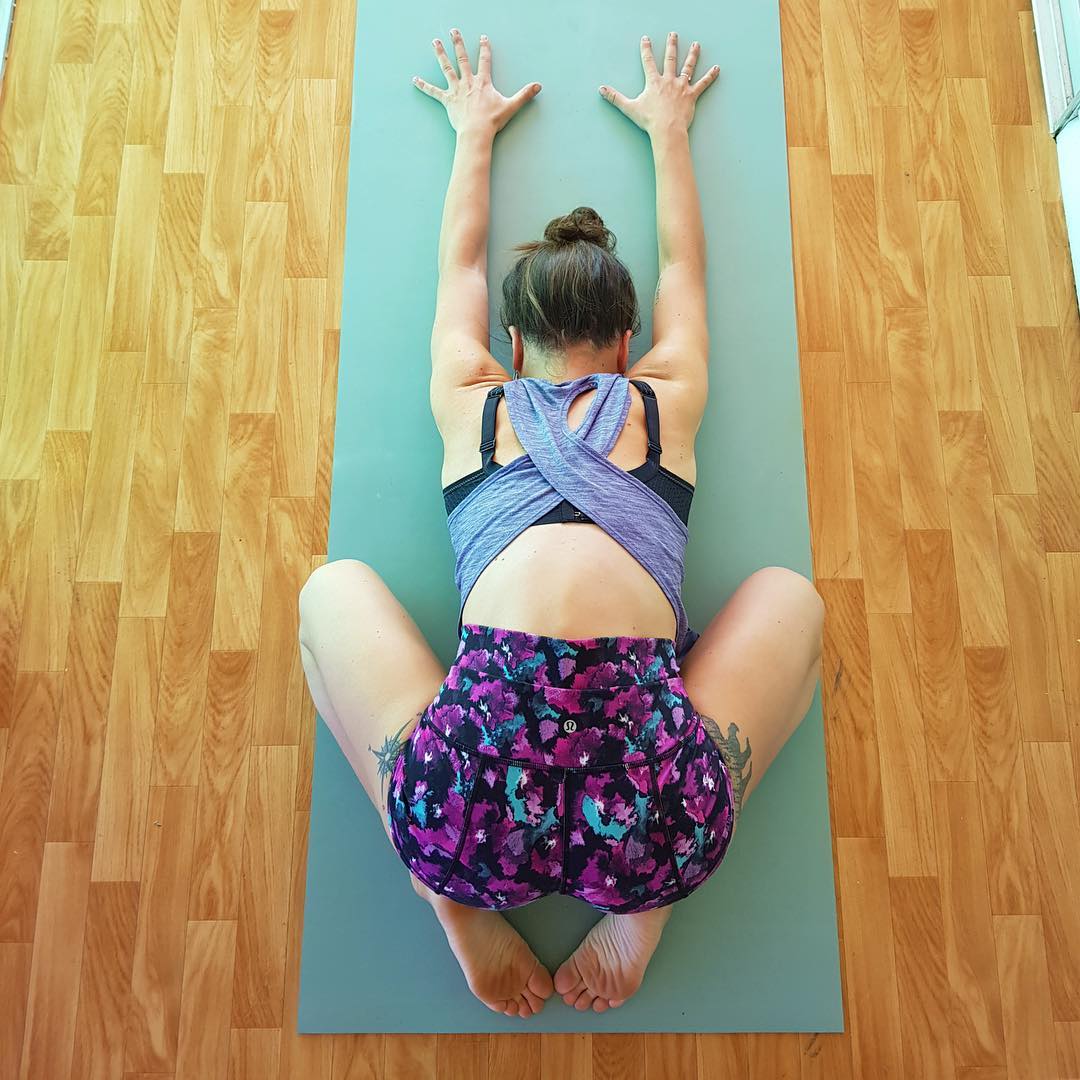 photo: @rhiannonyanushyoga
The Bridge at Rivermill | 1616 Jordan Drive | Saxapahaw, NC 27340
1:00 pm
Explore Saxapahaw Island Park
Time to get outside! Nestled in the middle of the Haw River, the recently opened Saxapahaw Island Park offers eight acres of trails, fishing holes and riverbank terrain for the whole family to explore. There are two miles of sandy, easy to navigate trails built by the county, in addition to some more challenging, windy trails created by wandering fishermen. The park offers incredible views of the surrounding river, an awesome nature playground (complete with a wooden fish-shaped slide!) and primo wildlife viewing opportunities. Enjoy the mid-day scene and make a mental note to try and come back at sunset when Insta-conditions are at peak—one snap of the cotton candy sky reflecting off the river is all you need to get those 'likes' rolling in.
*Good to know—if you park in town, this trail is accessed off of Church Road Bridge!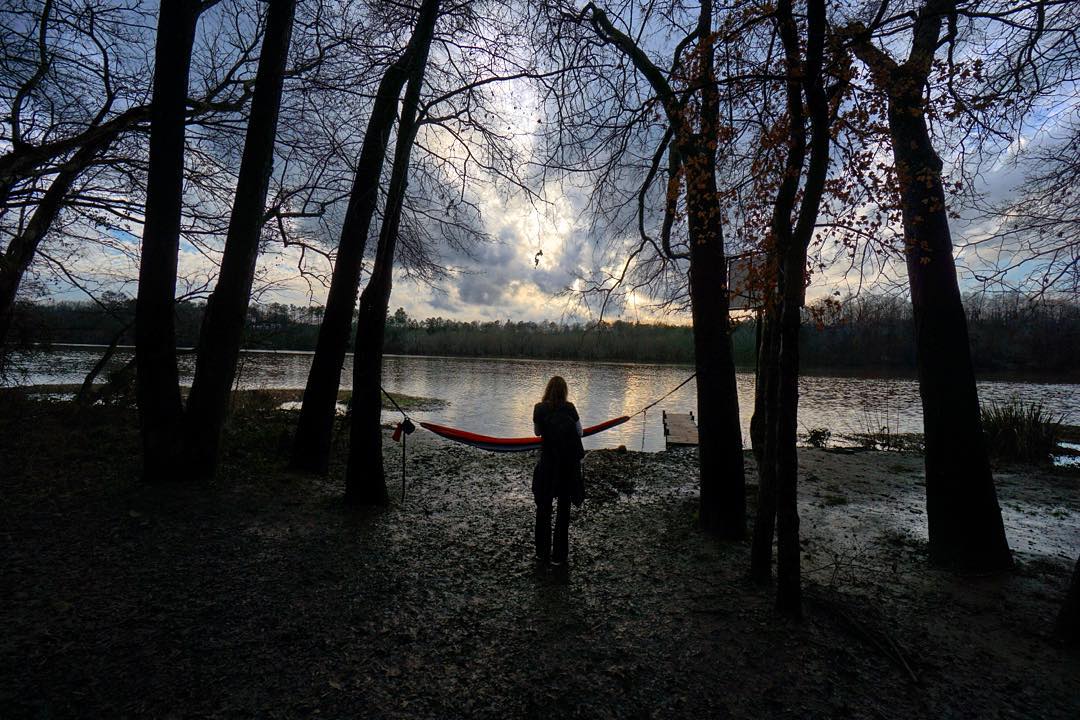 photo: @hgbpics
Saxapahaw Island Park | Free entry | 5550 Church Road | Saxapahaw, NC 27340
4:00 pm
Pick up fresh charcuterie at Left Bank Butchery
Carnivores, get excited. Left Bank Butchery offers fresh, hyper-local charcuterie, cut and cured with care. It's even been featured on the Netflix original series Cooked, so you know it's legit. Housed in a former textile mill, Left Bank is a whole animal butchery focused on local products and sustainable agriculture. All their meat is sourced from farms within a five-mile radius. Pick up some pâté, some pancetta and something from their daily cheese selection and you'll be all set for your next stop...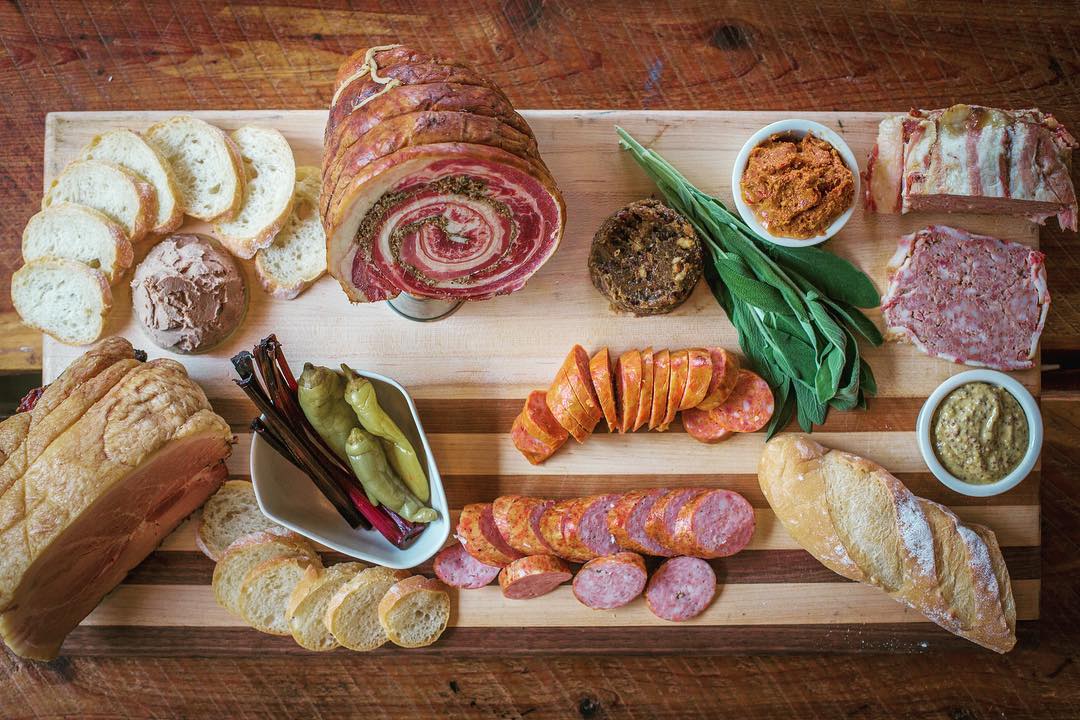 photo: @leftbankbutchery
Left Bank Butchery | 1729 Saxapahaw-Bethlehem Church Road | Saxapahaw, NC 27340
5:00 pm
Celebrate Saturdays in Saxapahaw
Every Saturday in May through August, the town of Saxapahaw hosts "Saturdays in Saxapahaw," a weekly community festival with something for everyone. Farmers Market? Check. Food Trucks? For sure. Live tunes? Obvi. Slip-n-slide? Yeah, even that.
Browse the local vendors and shop for fresh produce at the Farmers Market—a bit of fruit and fresh bread is all you need to round out your picnic. You can also hit up the local food truck scene or raid your stash from this morning's General Store run (a reminder that we said to buy beer too!)—then just lay out a blanket and relax on the green. The band will be rocking, the crowd will be grooving and someone, undoubtedly, will be blowing life-size bubbles. If this isn't picnic perfect, we don't know what is.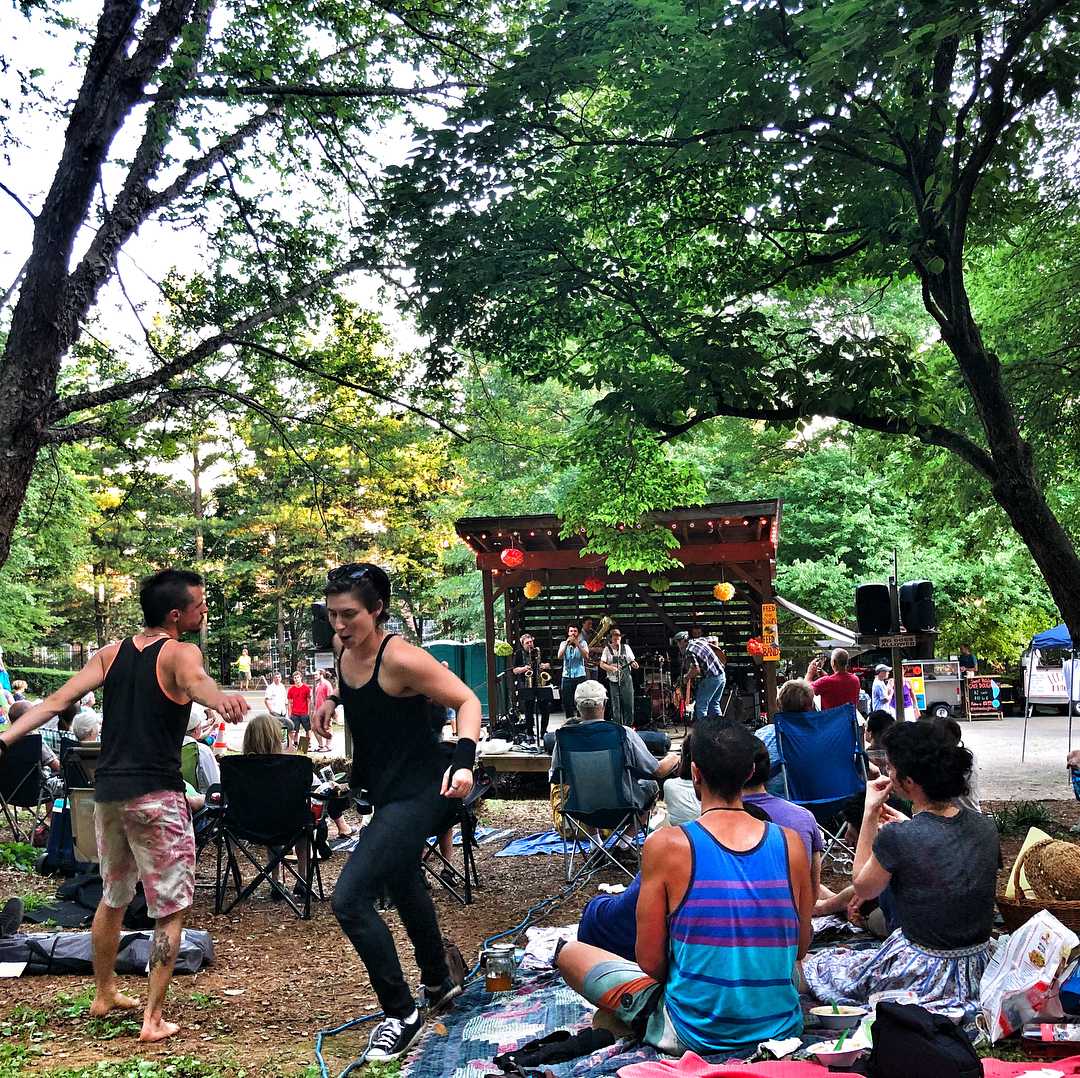 photo: @hawriverballroom
Saturdays in Saxapahaw | 1713 Saxapahaw-Bethlehem Church Road |Saxapahaw, NC 27340
9:00 PM
Sleep under the stars at Cane Creek Farm
By now, you've probably realized everything in Saxapahaw has a unique twist—and that creative flair extends to lodging options. So, this evening, you're checking into Cane Creek Farm: a working farm where camping ($20) is the least rustic option. Embrace the Saxapahaw vibe by staying in a yurt ($50+) or repurposed school bus ($40+)—we can't claim it'll be the best night's sleep of your life, but it'll certainly be the coolest. Set up a campfire, stargaze and try to get some rest. You've got a big day tomorrow.
In the morning, you'll want to be sure you save some time to walk along the creek, climb the hundred-year-old beech trees, and hang with farm animals (cows, chickens and pigs—oh my!).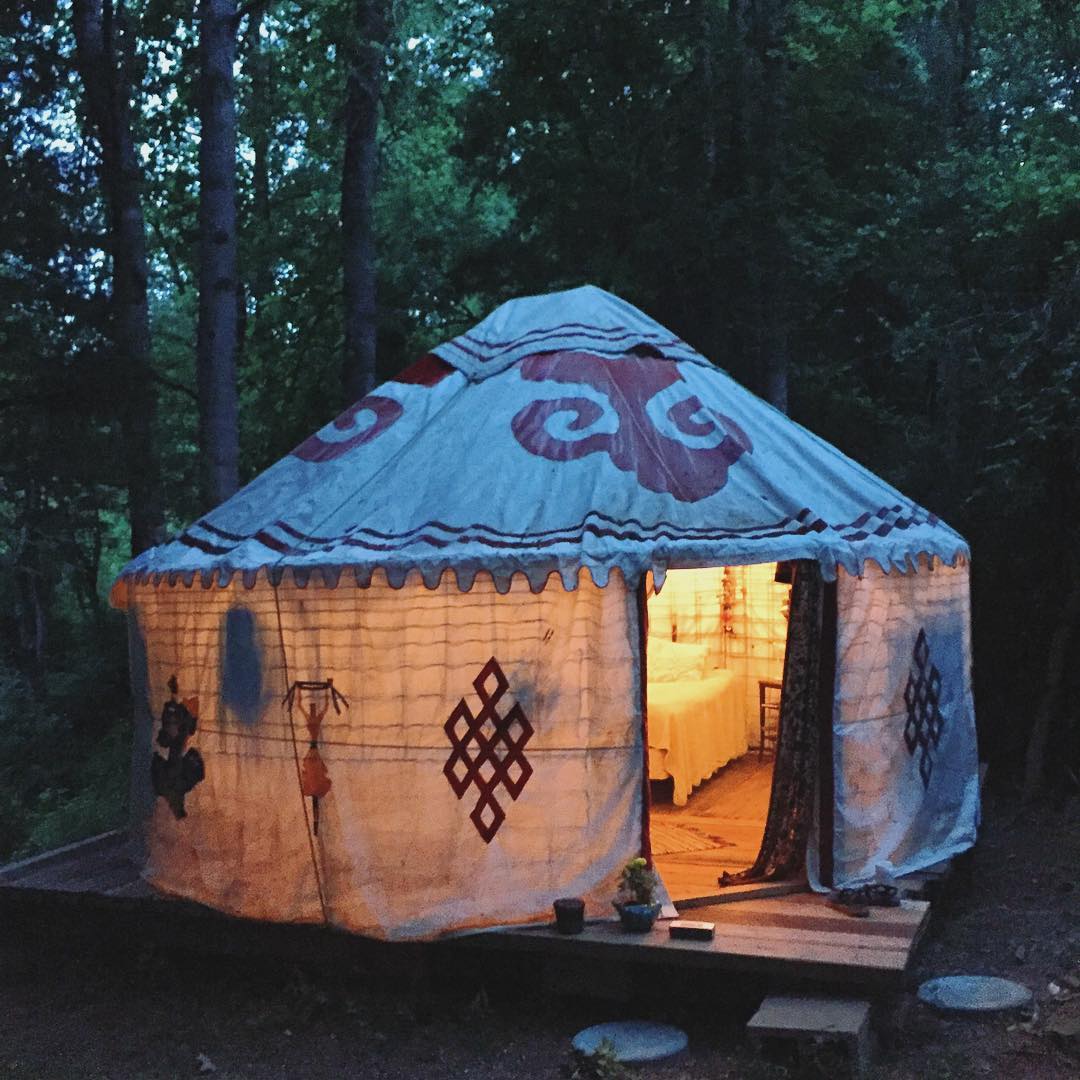 photo: @elvabennett
Cane Creek Farm | 1122 Ossabaw Way |Graham, NC 27253
SUNDAY
9:00 am
Grab a coffee with a view at Cup 22
First things first: get yourself caffeinated. Head to Cup 22 for picturesque views with a side of industrial chic vibes. Tucked away in the upper balcony of the Haw River Ballroom, this coffee shop offers freshly-roasted coffee ($2+) and locally baked goods in the most charming of settings. Relax on the outdoor balcony or gaze out from the huge windows to enjoy spectacular views of the Haw River below. The seating here is always plentiful (and there's wifi should you need to get back online for a few) so there's never a rush to leave. Snag a latte, grab something from the pastry case (pretzel bagels FTW) and start easing into your day.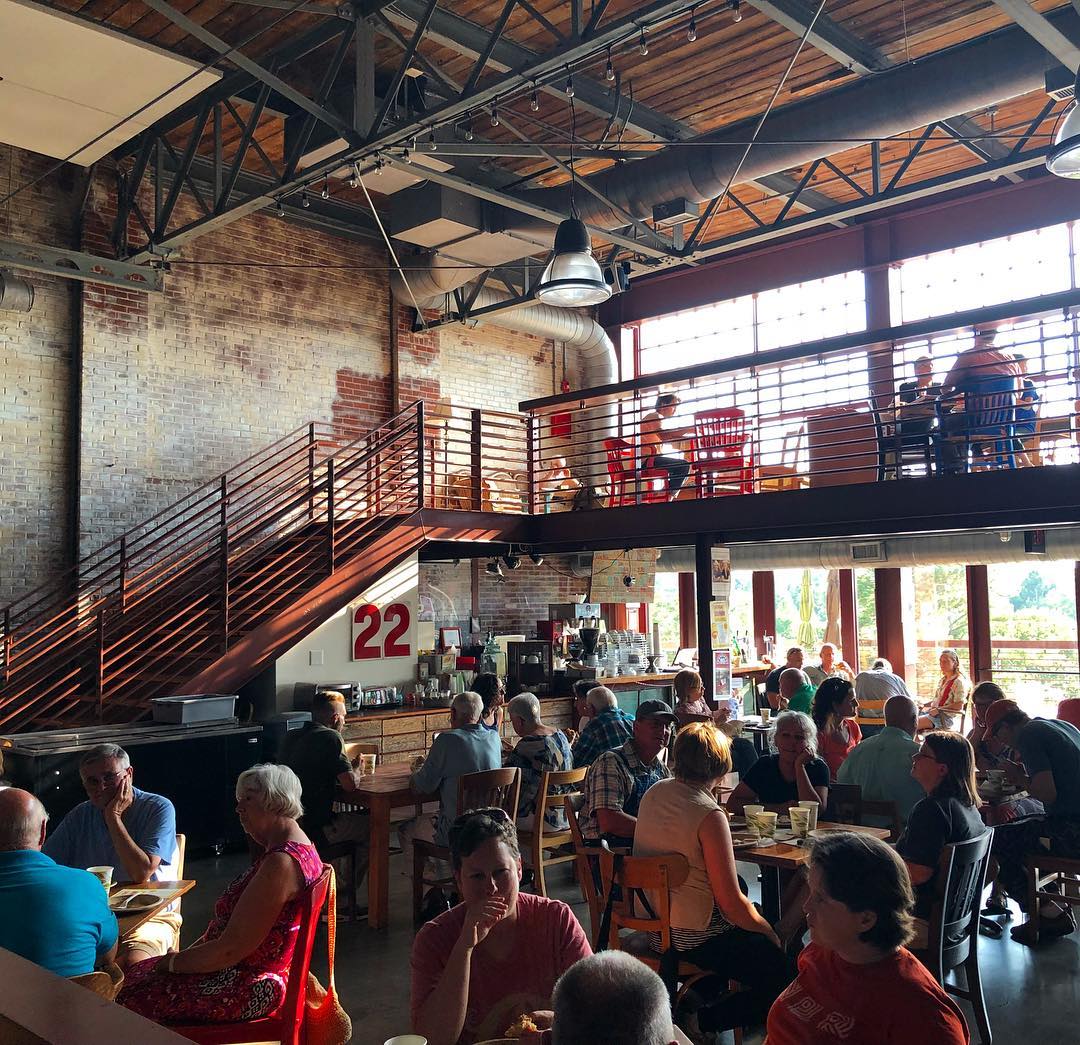 photo: @saxapahaw
Cup 22 | 1711 Saxapahaw-Bethlehem Church Road | Saxapahaw, NC 27340
10:00 am
Float Down the River
It's basically sacrilegious to go to Saxapahaw and not get onto the Haw River. Luckily, the Haw River Canoe & Kayak Company has everything you need to spend a few hours offshore. They offer easy self-guided trips ($30), which you can paddle through via canoe, kayak or stand-up paddleboard—whatever floats your boat (sorry, we couldn't help ourselves). Explore hidden coves along the riverbank, take in the scenery and keep an eye out for wildlife—don't forget to pack some snacks so you can enjoy a floating picnic too!
PS: Not into going at it on your own? Check out their special themed group excursions (think stargazing floats and full moon paddles) for an expert-level, guided adventure ($35).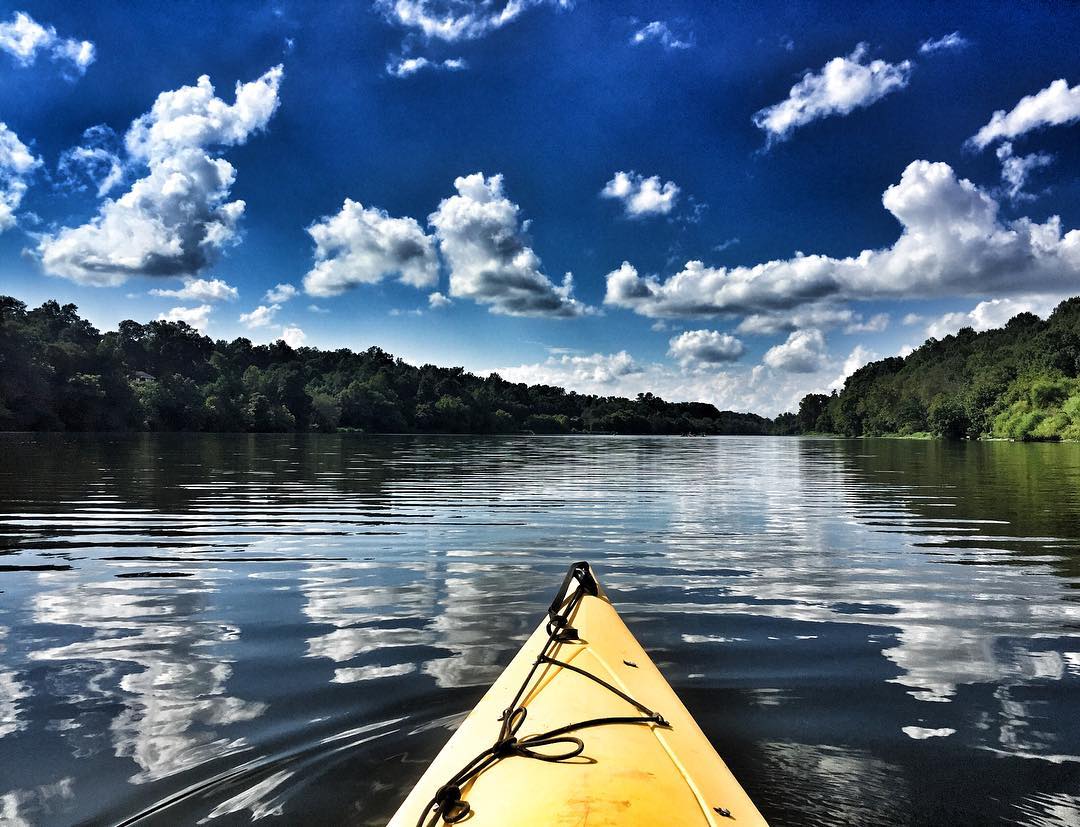 photo: @heatherlagarde
Haw River Canoe & Kayak Company | 6079 Swepsonville-Saxapahaw Road | Graham, NC 27253
2:00 pm
Share a flight at Haw River Farmhouse Ales
Get into the Sunday Funday spirit with local brews at Haw River Farmhouse Ales, a small batch craft brewery located on the ground floor of the rivermill. The cozy, 3,000 square-foot brewery has a small tasting room and patio just steps away from the banks of the Haw River—yeah, you were here earlier, but a view this gorgeous doesn't really get old.
The brewery focuses on producing small batches of Belgian-style beers ($3-$8). They've got a bunch of year-round staples in addition to seasonal brews, sours and "special project" beers. The head brewer's got a reputation for unlikely combinations and locally sourced ingredients, so these brews are sure to impress even the snobbiest of beer drinkers. A word of advice: you'll want to try as many as possible. Go for a flight ($12).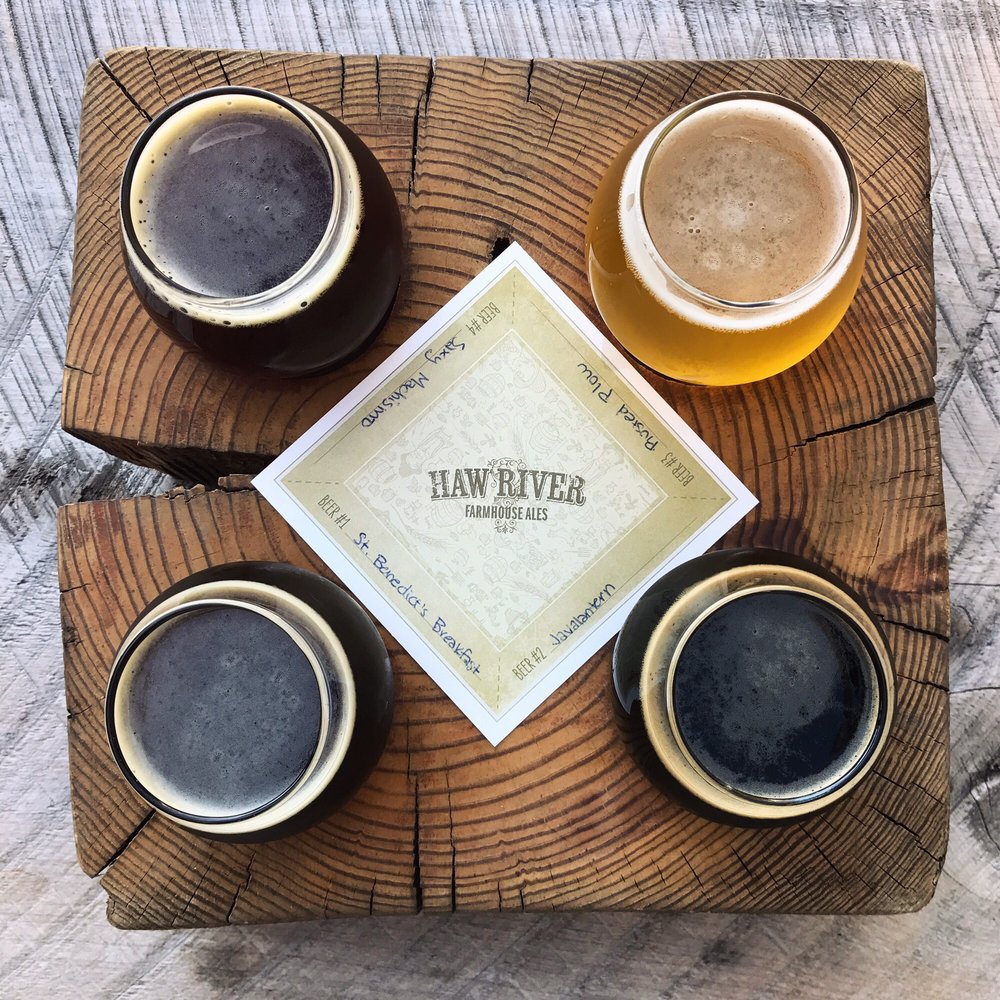 photo: Elise H.
Haw River Farmhouse Ales | 1713 Saxapahaw-Bethlehem Church Road |Saxapahaw, NC 27340
3:30 pm
Hike The Haw River Trail
Take a hike along the Haw River Trail. Part of the Mountains to Sea Trail, this portion of the trail winds through Saxapahaw and along the Haw River. There are over 15 miles of the trail currently open to the public in Alamance County, all with gorgeous views and lush plant life. There's plenty of spots to swim, fish, spot wildlife or simply lay out with a blanket and relax.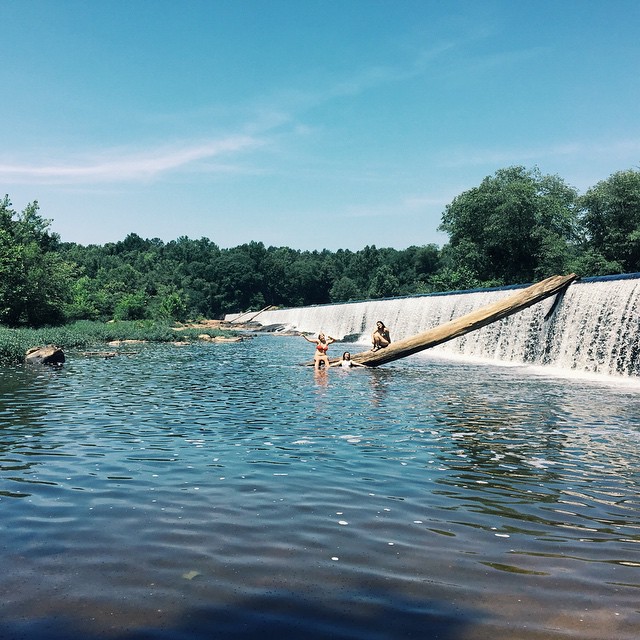 photo: @tooferabaivilo
Haw River Trail | 6079 Swepsonville-Saxapahaw Road | Graham, NC 27253
6:00 pm
Get your grub on at The Eddy Pub
Nothing works up an appetite more than a day of exploring. And the only thing better than the incredible view of the river from The Eddy Pub is their delicious grub. Built inside an old mill, the Eddy Pub maintains the rustic decor and relaxed, industrial-chic vibe that's become a signature of Saxapahaw's charm.
The Eddy Pub shines with "seriously local food" that goes far beyond your average pub fare. Relying on fresh, local ingredients, their menu features everything from NC Pimento Cheese Fries ($6) to Trout Cakes ($15), Grilled Pork Chop ($20) and Roasted Beet Salad ($8). Needless to say, this place is a real crowd pleaser with vegetarian, vegan and gluten-free friendly options for all. Opt to dine al fresco out on the deck and you'll catch the sun setting over the Haw River. Grab a couple of local brews ($4) and cheers to a well-played weekend.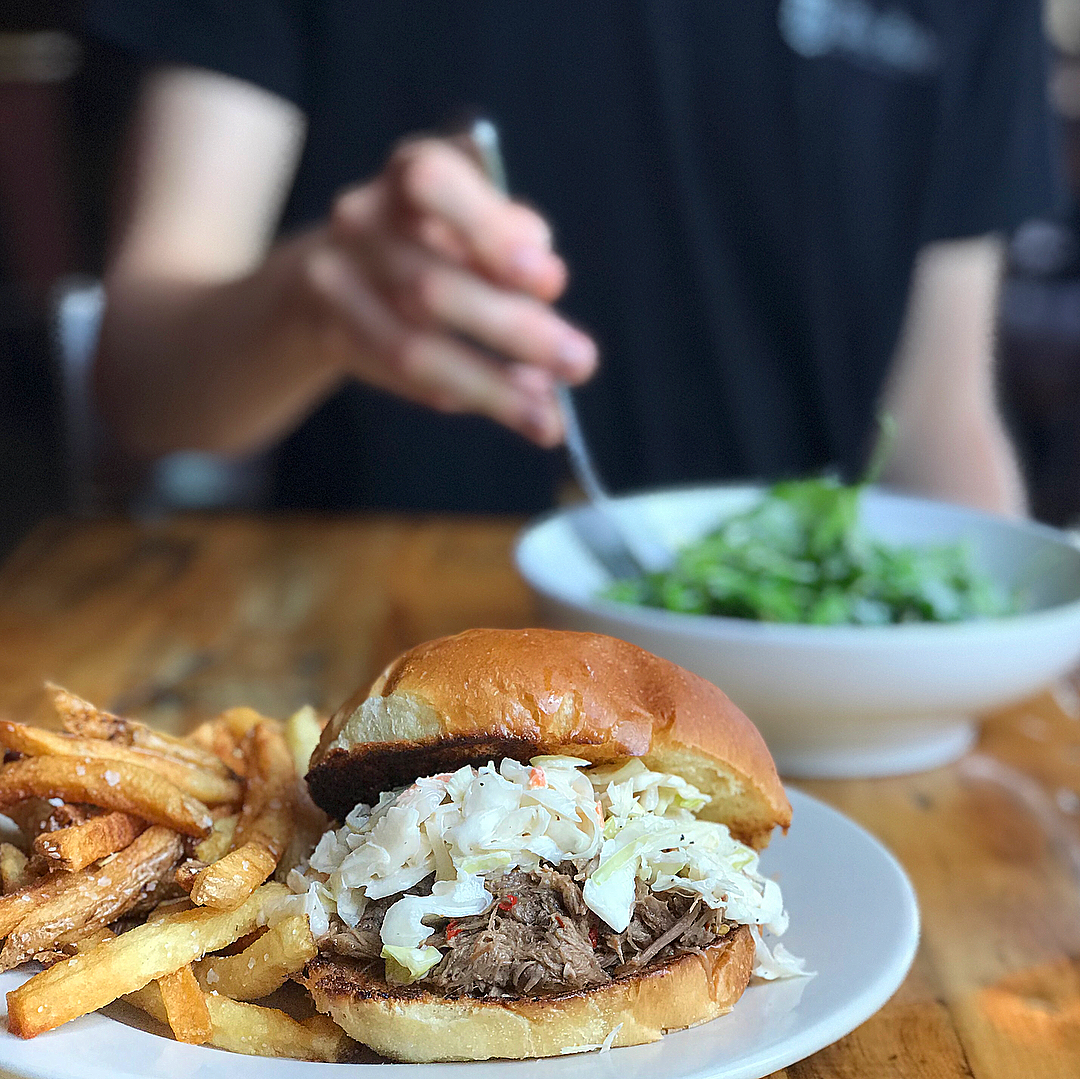 photo: @theeddypub
The Eddy Pub | 1715 Saxapahaw-Bethlehem Church Road | Saxapahaw, NC 27340
8:00 pm
Catch a concert at The Haw River Ballroom
Music lovers across the Triangle know that The Haw River Ballroom is one of the area's best destinations for catching a live performance. If you're lucky enough to be in town while a show is happening, you must drop everything, get tickets and go.
In the heart of town, you'll spot Haw River Ballroom. This intimate music venue boasts a multi-level space and superb acoustics, ideal for concert-goers and performers alike.
They host a variety of performers, from heavy-hitting national stars to local favorites.
The first floor is spacious with high ceilings while the overlooking second and third-floor balconies offer respite from the mosh-pit below. As an added bonus, the balconies also lead to the outside so you can grab some fresh air and sneak in one last view of the Haw River.
Last tip: the venue's bars will often give out free coffee. Snag a cup to stay wide-eyed on your ride home after the show.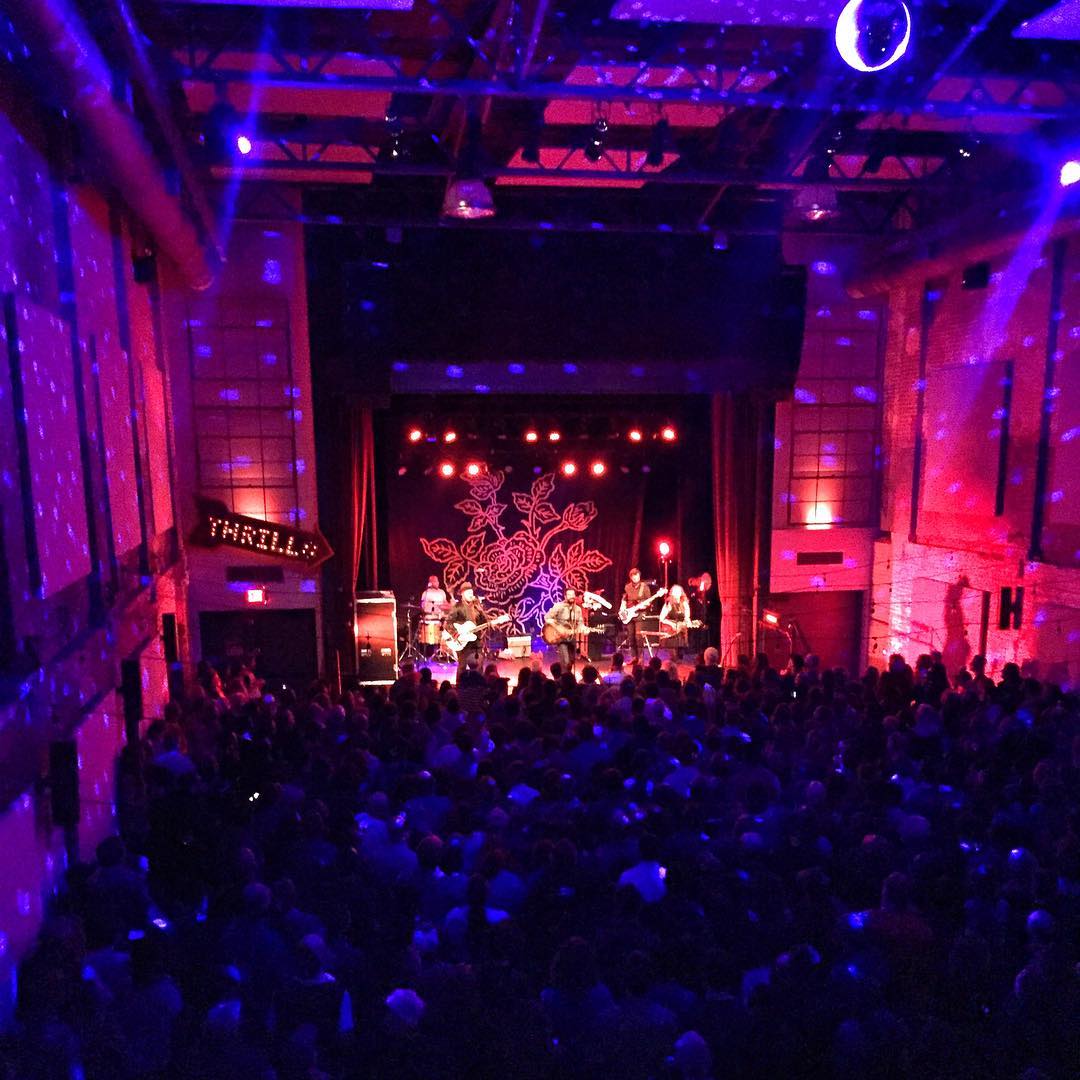 photo: @hawriverballroom
The Haw River Ballroom | 1711 Saxapahaw-Bethlehem Church Road | Saxapahaw, NC 27340
Bon voyage!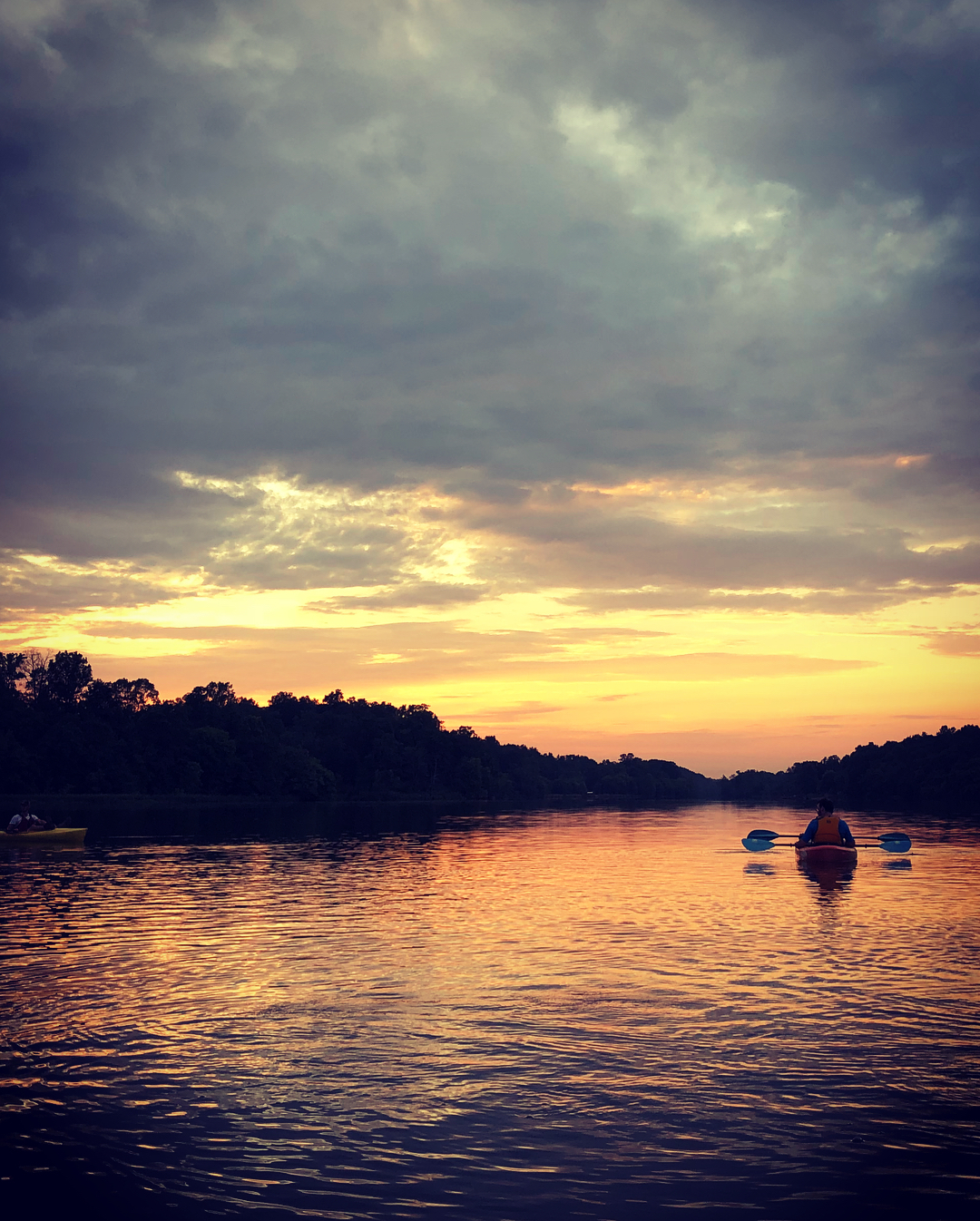 photo: @nobewannc